China Is Slaughtering Millions Of Donkeys In Africa

Recent reports have revealed that criminal smugglers are slaughtering donkeys for a variety of different reasons. Donkeys were first targeted a few years ago because they can silently haul large pieces of cargo across rough terrain without being detected.
In one case, police caught smugglers using donkeys to haul a luxury car that was stolen from South Africa. The thieves were caught attempted to drag the vehicle across the dry Limpopo River border into Zimbabwe.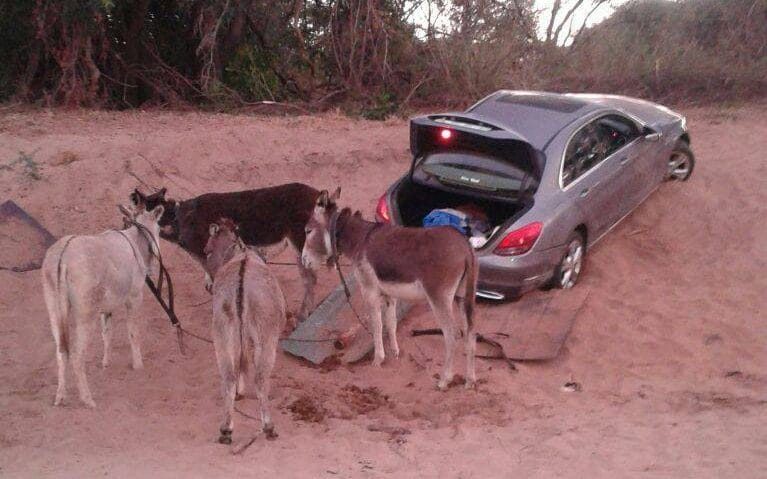 Donkeys drag a luxury car stolen from South Africa across the dry Limpopo River border into Zimbabwe.  Photo Credit: SAPS
Now, smugglers have learned that they can kill the donkeys and export their meat and hides to China. Parts of the donkey's body is used to produce a gelatin called ejiao, which is a traditional Chinese medicine used to manage conditions ranging from insomnia to aging.
Edmore Mathibela is the leader of a smuggling syndicate that operates along the border of South Africa.
"For the right money, we smuggle cigarettes, bales of clothing, minerals and stolen cars parts. We also run live cargo like human border jumpers and stolen livestock, which can be cattle, goats or donkeys," he said.
"Most donkey thefts on the Zimbabwean side are perpetrated by locals who are hired by South African syndicates based in Limpopo province. We help with smuggling them out to South Africa," he added.
Updated maps of the borderlands are hard to find. Tshipise was spelled 'Tshepise' in this old South African Defence Force map
Mathibela pointed out that the government there is very corrupt, so it is easy for the syndicate to bribe officials and police to look the other way.
"Here, soldiers, police, smugglers and muggers work together. Some officers are syndicate members, shareholders, beneficiaries or informers, updating information on border patrols for a fee or a share of the loot. The soldiers and police feature in all crime syndicates – thieves, robbers and muggers, contraband smugglers, drug dealers, vehicle and stock-theft rings. No syndicate can exist without them," Mathibela said.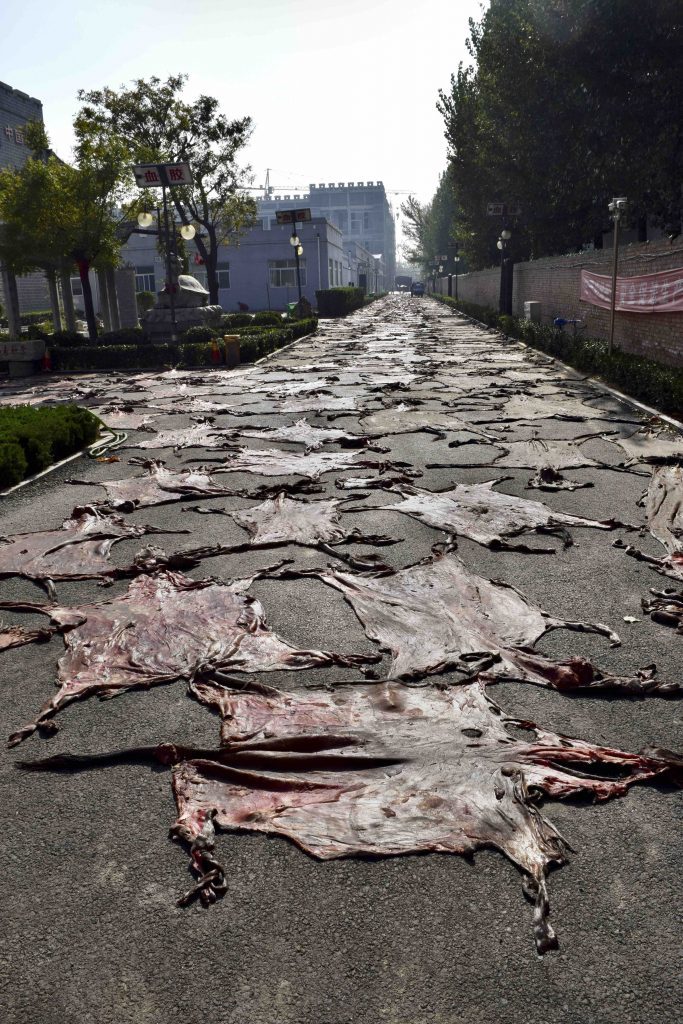 Donkey Skin drying in the sun in Hong Kong / Photo Credit: Oxpeckers
A journalist organization called Oxpeckers researched the situation on location in South Africa. In their travels, they spoke with Stanford Mukwena, a smuggler who transports illegal immigrants, and illegal goods using donkeys.
"Car theft syndicates pay up to US$100 for each donkey used to pull one stolen car into Zimbabwe. Due to this, thefts have spiked on either side of the border as syndicates compete to steal and keep donkeys for use in vehicle-smuggling operations. Donkeys also work daily on the smuggling routes ferrying bulky commodities like opaque beer and cigarettes through rough frontier territory, which can only be patrolled from the air," Mukwena said.
The government is not entirely corrupt, there are a few politicians who are working to fight against the problem. Tambudzani Mohadi, a senator from  Zimbabwe, said that this issue is especially bad along the border with South Africa.
"Most of the donkeys are taken to South Africa. I don't know what happens to them there, but South African farmers have been accused of buying stolen Zimbabwean donkeys to feed lions. Sadly, no action is being taken to stop donkey theft and several other cross-border crimes affecting our people," Mohadi said.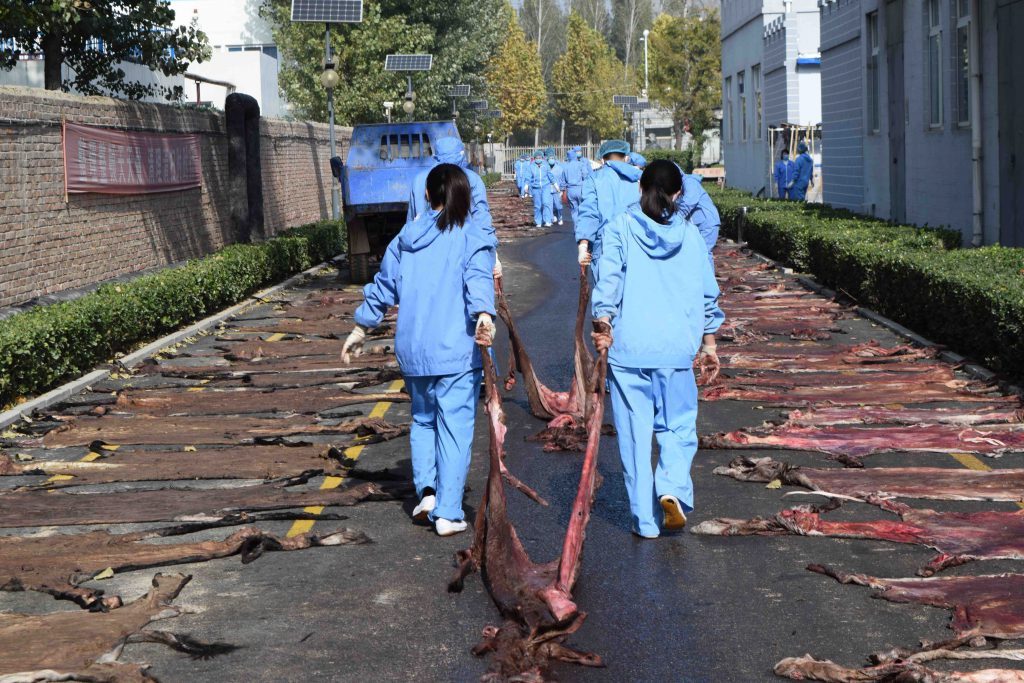 Donkey hides are laid out in the sun to dry at an ejiao production facility in China. Photo: George Knowles/Hong Kong
It is actually legal to export donkey hides, but the government keeps a quota on these exports and requires sellers to register. There are only three registered exporters in South Africa, and likely a far larger number of illegal exporters. South Africa has a legal annual export quota of 10,500 donkey hides to Hong Kong and China.
Dr Keith Dutlow, director of the Animal and Wildlife Area Research and Rehabilitation Trust in Zimbabwe, said in an interview with the Zimbabwe Border Guide in April 2017, that this new trade could wipe out the donkey population in the country.
"[In Zimbabwe] there are no programmes in place to promote donkey production, yet in this ejiao trade, donkeys are, and will continue to be slaughtered in large numbers. People may be lured to get a few dollars by selling their donkeys, but it will never be sustainable. People should not be short-changed into selling their donkeys at the expense of their own livelihoods," he said.
© AnonLAB 2019