Container ship carrying Chemicals, 2,000 cars, And 37 Porsches Sinks Into Ocean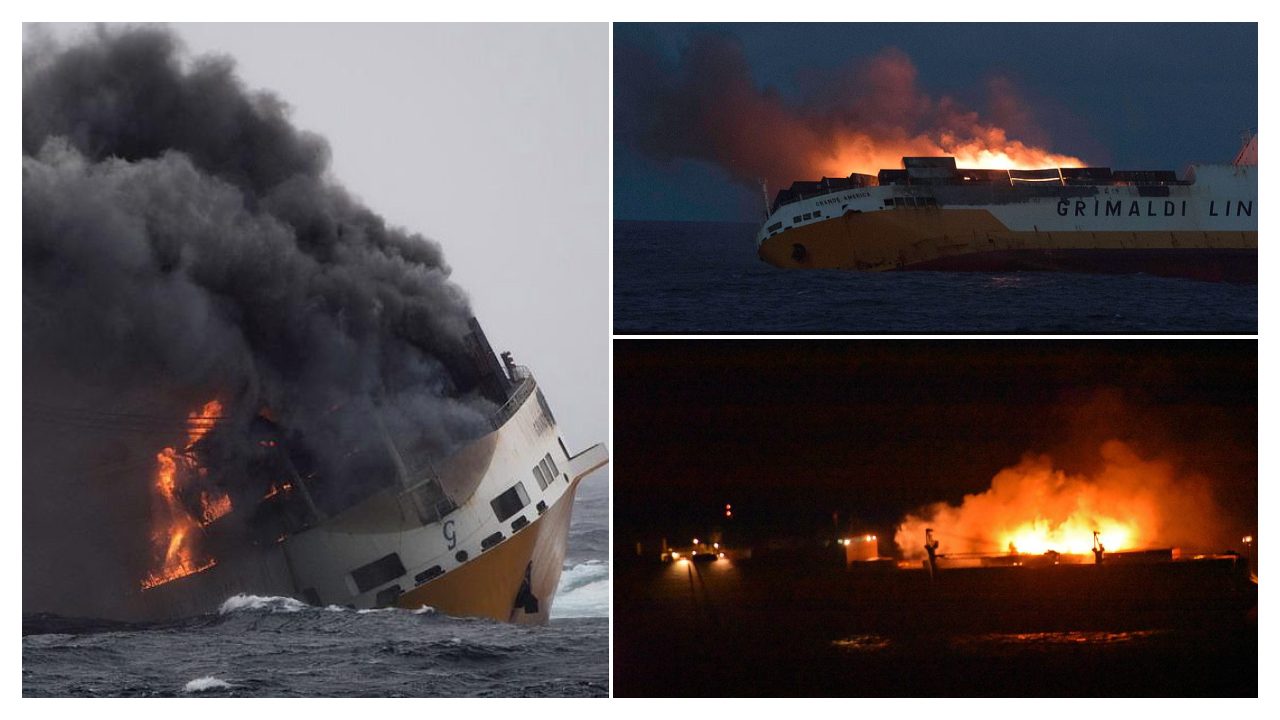 A massive ship containing toxic materials, luxury cars, and various other cargo capsized this Tuesday near La Rochelle. Now, France is preparing for a large oil slick to hit the coastline.
The incident began this Sunday, when Grande America, a container vessel caught fire during its trip from Hamburg to Casablanca.
An investigation will be opened to determine the cause of the fire, but as of now, the source is unknown. It is currently believed that the fire initially broke out on the car deck and then spread throughout the ship, but it is unclear how the fire originated.
The cause of the fire is unknown but is believed to have broken out on the car deck before spreading to a container.
Luckily, all 27 crew members on the ship were rescued, but the sinking of the ship caused 2,200 tons of fuel to be spilled into the ocean.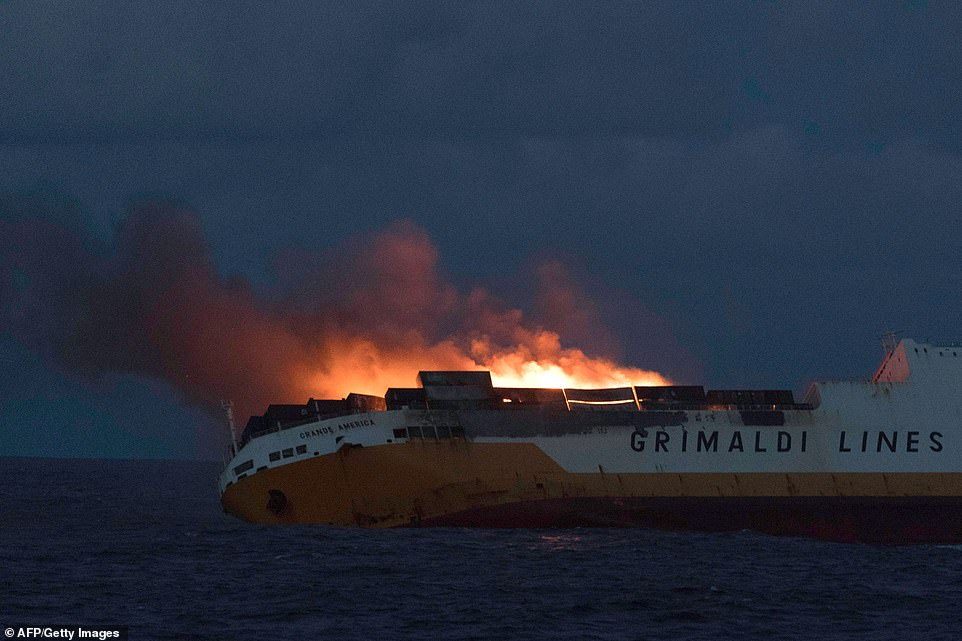 Defense Secretary Gavin Williamson praised the first responders who saved the lives of the crew.
"HMS Argyll's swift and selfless response to a very dangerous situation in difficult conditions undoubtedly saved 27 lives. I commend her crew. This rescue demonstrates that even on the final leg of a challenging nine-month deployment to the Far East, the Royal Navy's sailors remain vigilant and professional at all times," Williamson said.
Things were not so easy for the crew though, as before the rescue many of them were inhaling smoke and toxic chemicals.
Lieutenant Commander Dave Tetchner, from HMS Argyll, said that the lifeboat failed, and many of the crew believed that they would have to abandon ship into the water.
"It was pretty awful for them – they'd had to fight a fire in dreadful seas. Every one of them suffered smoke inhalation. Then they faced the prospect of abandoning ship and then their lifeboat failed. It was pretty awful all round and they were shocked. You see container ships like this every day when you're sailing around the world. What you do not see is one in flames – it was a dreadful sight," Tetchner said.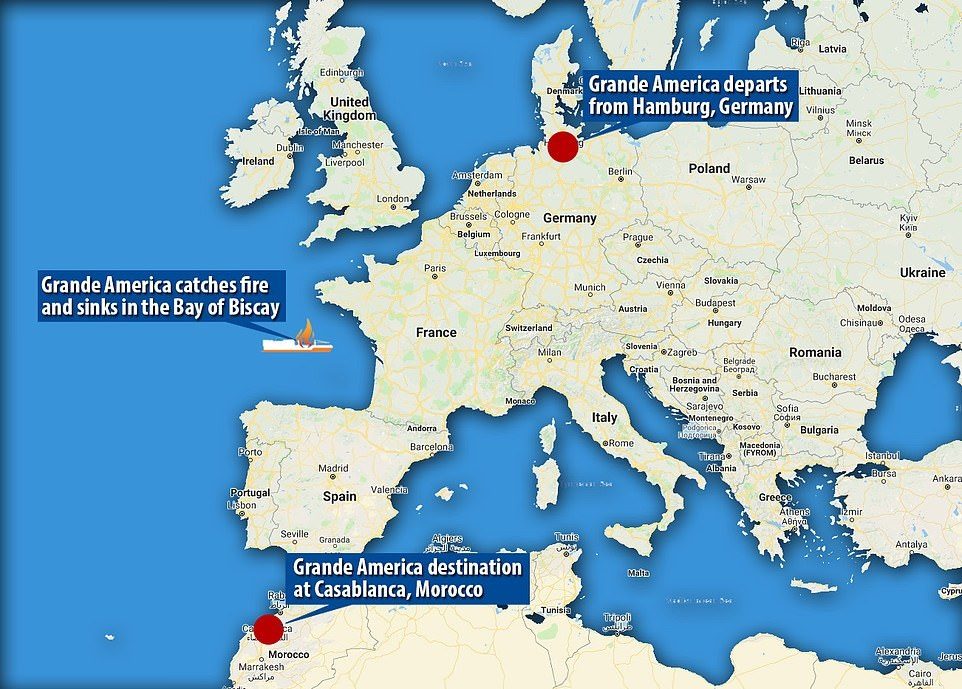 DM
Authorities say that they are working hard to mitigate the potential environmental damage from the incident.
"There is a risk, so we must do everything to reduce it and to reduce the impact of pollution of our coasts," Environment Minister François de Rugy said.
French environmental activists say that they will be filing a criminal complaint about the spill so a proper investigation can be done.
The oil and fuel alone spilled in the incident could cause significant damage, as a 6 mile wide oil slick is expected to reach northwestern France.
The company that owns the ship, Grimaldi Lines, made a statement after the incident saying that 365 shipping containers were onboard, and 45 of them contained "hazardous materials".
Vice Adm Jean-Louis Lozier, head of the regional maritime authority confirmed that 10 tons of hydrochloric acid and 70 tons of sulphuric acid spilled into the water.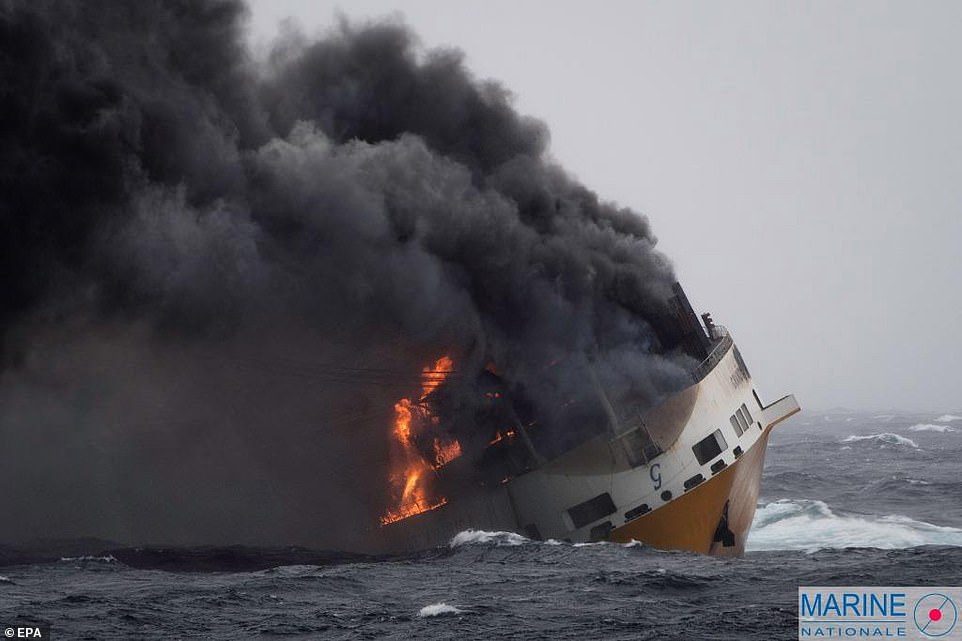 Vice Adm Lozier said that he believed that the spill was "very localized" and "would not have serious consequences for the environment", adding that most of the materials had already burned.
However, environmentalist activists disagree and say that these chemicals have lasting effects.
Christian Buchet, director of the Centre of Ocean Studies at the Catholic Institute of Paris pointed out that a spill like this has an impact on the atmosphere as well.
"Everything that burned – the containers, the drums of hydrochloric and sulphuric acid – that doesn't disappear. It goes up into the atmosphere," Buchet said.
Group spokesperson Jacky Bonnemains told the AFP that "It's a car crash at the bottom of the sea, representing hundreds of tonnes of toxic materials in an area very rich in fish, plankton and marine animals."
There were also many luxury cars traveling on the ship, including 37 Porsche cars.
The company was forced to issue an apology to its customers, who will not be able to get a replacement for certain cars because they are now discontinued, including the rare 911 GT2 RS.
"We are sorry to inform you that, due to a fire, a Grimaldi group ship, that was transporting your vehicle, sank on March 12, 2019… For that reason, your GT2 RS cannot be delivered. As you may know, Porsche ended the 911 GT2 RS production on February 2019 and under normal circumstances, it wouldn't be possible to give you another car," the company said in a statement.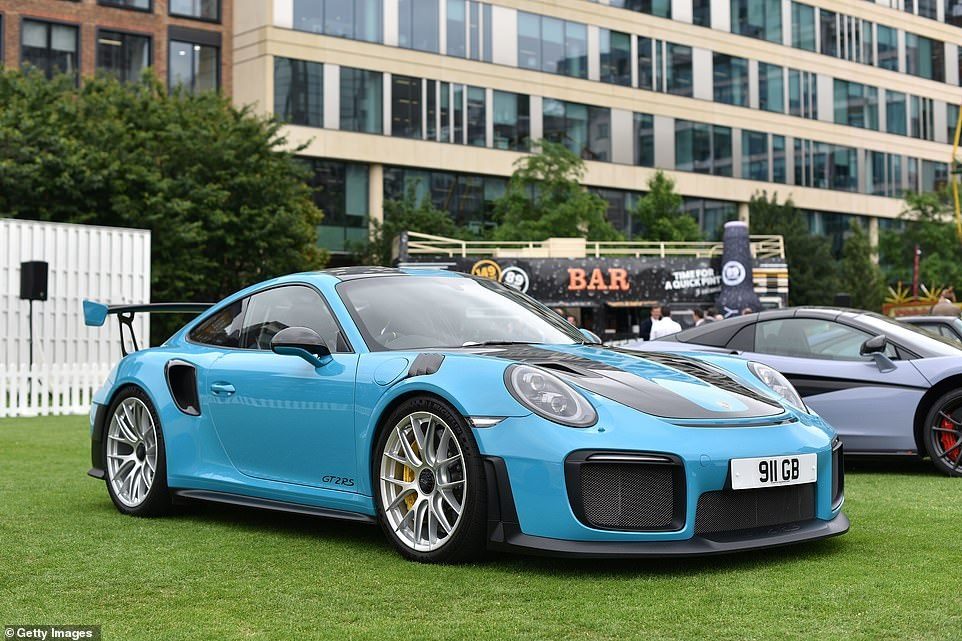 Photo Credit: Daily Mail/EPA
© AnonLAB 2019