What We Know So Far About The Easter Day Bombings In Sri Lanka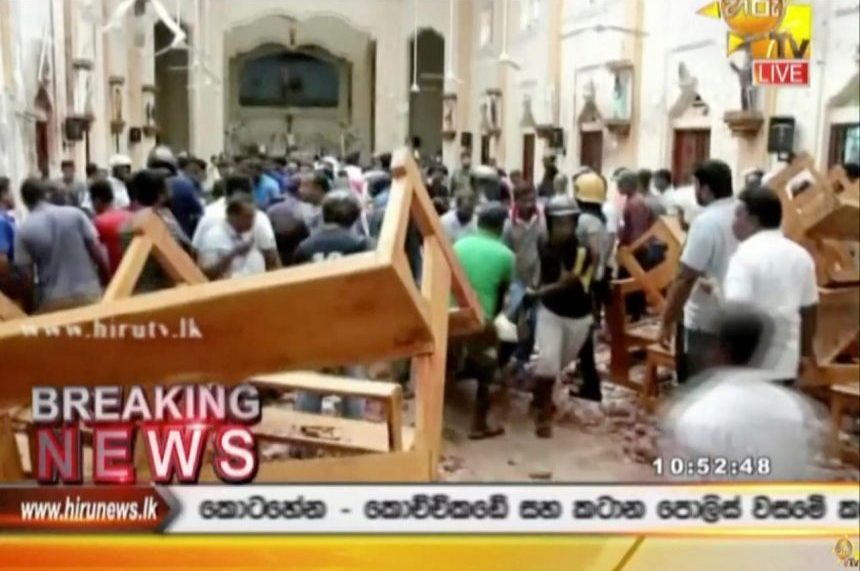 This Sunday, on the Easter holiday, multiple churches and hotels in Sri Lanka experienced a number of large explosions. At least 207 people have lost their lives in the blasts and at least 450 additional victims have been injured. Officials say that the vast majority of the victims in the attack were natives of Sri Lanka, but it has been reported that about 30 people from other nations have also been killed, including three UK nationals and two people with dual citizenship between the US and the UK. One Dutch, one Chinese, one Portuguese and two Turkish nationals have been killed, their respective foreign ministries have confirmed, according to the Guardian.
Initially, there were six explosions at three hotels and three churches, then two later bombs were set off at nearby private residences. Sri Lankan government minister Harsha de Silva, said the last two blasts appeared to have been carried out by the suspects as they attempted to flee from the police.
Very little information is currently known about the attackers or their motives. Sri Lanka's defense minister, Ruwan Wijewardene said that this was the work of religious extremists, but did not specify which group or religion they belonged to. The defense minister also stated that the blasts were the result of suicide bombers. There have been some arrests in the case, but there are conflicting reports as to how many people were arrested. The first figure released by the government said that there were seven arrests, but then a later statement released by police suggested that there were only three official arrests while many more people were currently detained and awaiting questioning.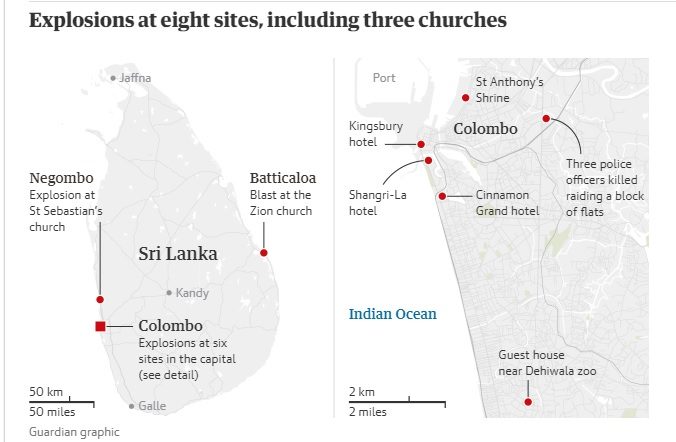 Sri Lankan explosions map / Photo Credit: The Guardian
After the bombings, the Sri Lankan government imposed a curfew and shut down social media and messaging services for the entire country.
Sri Lankan Prime Minister Ranil Wickremesinghe initially warned the public against "unverified speculation," about the culprits of the attack.
"I strongly condemn the cowardly attacks on our people today. I call upon all Sri Lankans during this tragic time to remain united and strong. Please avoid propagating unverified reports and speculation. The government is taking immediate steps to contain this situation," the Prime Minister said after the initial explosions.
At a later press conference, Wickremesinghe suggested that they had made a breakthrough in the case and that the group responsible was local to Sri Lanka.
Sri Lankan police officers clear the road as an ambulance drives through carrying victims of the church blasts in Colombo, Sri Lanka on April 21, 2019. / Photo Credit: Eranga Jayawardena of the Associated Press
"So far the names that have come up are local," he said, adding that the government was checking to see if this local group had any "overseas links" to other more well-known extremist groups.
Wickremesinghe also seemed to indicate that the government had prior knowledge of the group and their intent to do harm. During the press conference, the Prime Minister acknowledged that "information was there" about the extremist group and admits that the government may have failed to stop the attack, the Guardian reported.
"While this goes on we must also look into why adequate precautions were not taken," he said.
However, he also said that the government was more focused on "apprehend the terrorists," than anything else.
"First and foremost we have to ensure that terrorism does not lift its head in Sri Lanka," he added.
Minister for national integration Mano Ganesan says officers were warned a week ago that suicide bombers in Colombo could target politicians.
All Easter services scheduled for Sunday evening have been canceled in Sri Lanka, Archbishop of Colombo Cardinal Malcolm Ranjith's House said.
Recent reports suggest that there are still as many as 25 more deceased victims in the attack who have yet to be identified, most of them presumed to be citizens of other countries.
"Following the explosions that took place in Colombo, Negombo and Batticaloa, earlier today, the number of foreign nationals who have been identified as deceased at the National Hospital in Colombo stands at eleven," a statement from The Sri Lankan foreign ministry read.
As the story in Sri Lanka develops we will be posting more significant updates as they become available to us.
© AnonLAB 2019