A Suspected White Nationalist at UK Has Been Caught With A Map Of Mosque Locations After Night Of Vandalism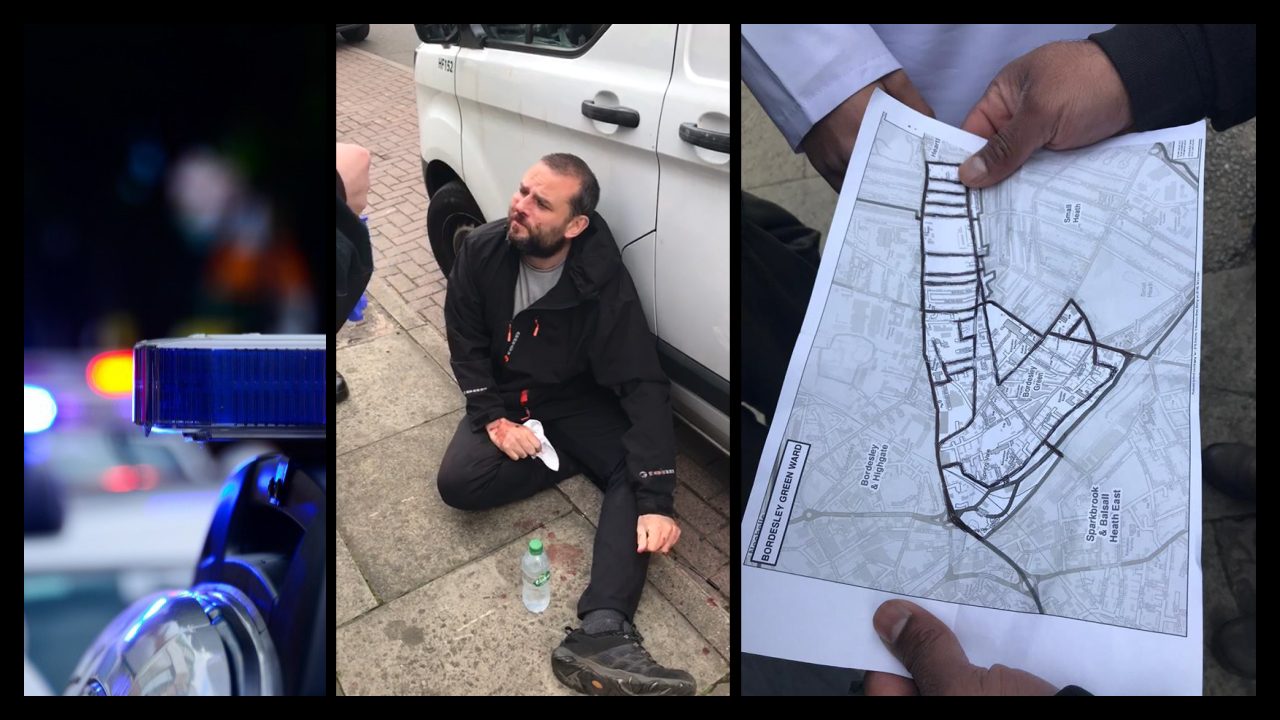 An Anon News reader sent us a tip today, relating to the night of vandalism that targeted UK mosques in Birmingham.
The details of the incidents are still unclear, and there were no suspects until this morning, however, a man was arrested earlier this morning after a vigilante saw him taking notes outside of local mosques, jotting down their locations on a small local map. It didn't take long before people began to catch onto this strange character and notified police, who quickly came to arrest him.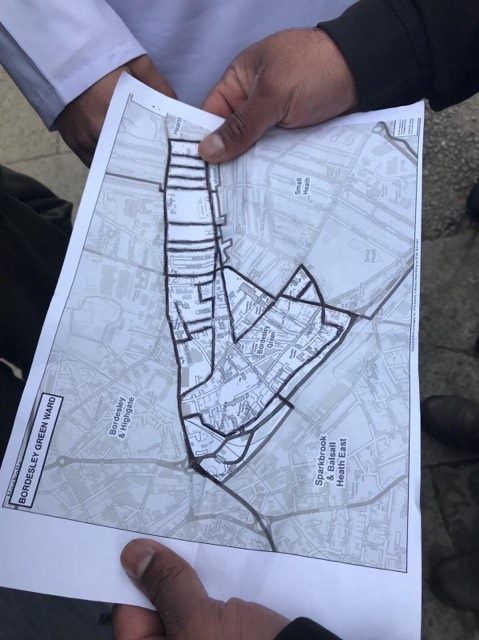 Via facebook
The source wrote to us that, "This man was caught by my house earlier on today near wyndcliffe rd..he was noting down mosque locations..he was followed from charles rd masjid to green lane masjid where he was approached and asked what he was doing..he was found with a little area map with outlines on it..he was given a good seeing too and then handed over to the police who arrested him and took him away..STAY VIGILANT!!"
In a video sent to us by the source, it appears that the suspect has a bloody nose after a scuffle with the vigilante, who reportedly followed him for miles as he filled out the map. The video is very short and the camera began recording just after the suspect was apprehended, but a witness can be heard in the background describing the events that led up to the arrest.
This strange encounter was the morning after five separate mosques were targeted with vandalism in the Birmingham area. The vandalism reportedly started when a man was seen smashing the windows of a Mosque on Birchfield Road with a sledgehammer last night. Just under an hour later, officers were called to a Mosque in Erdington, then another in Aston and Perry Barr, then yet another on Albert Road, each spaced out by about 45 minutes.
The footage below shows some of the damage that was done at one of the locations.
In a press conference held outside the Witton Islamic Centre, West Midlands Police and Crime Commissioner David Jamieson said, "What we have today is broken windows, but what people are doing who are breaking those windows are trying to break [is] our spirit, and break the cohesion that exists between all the people of the varied faiths and diverse community that we have here in the West Midlands. What I'm here today to say is that those people are not going to succeed and people who carry out this type of criminality will be hunted down relentlessly."
Some footage of the vandal was captured on CCTV footage, but until the vigilante encounter this morning, there were no official suspects in the case.
Yousef Zaman, chairman of Masjid Faizul Islam mosque in Aston, told the BBC, "My initial reaction was shock that this had happened. There's a fear factor now in that adults are saying they're going to keep their children away from the mosque today because they're worried that it's not safe. But we're not going to stop worship, we're going to carry on as normal, we won't let them win, we will defy them."
Zaman also told the BBC that the local Mosques would be holding a summit to discuss the need for increased security.
The map below, provided by the BBC, shows how far apart the locations were from one another.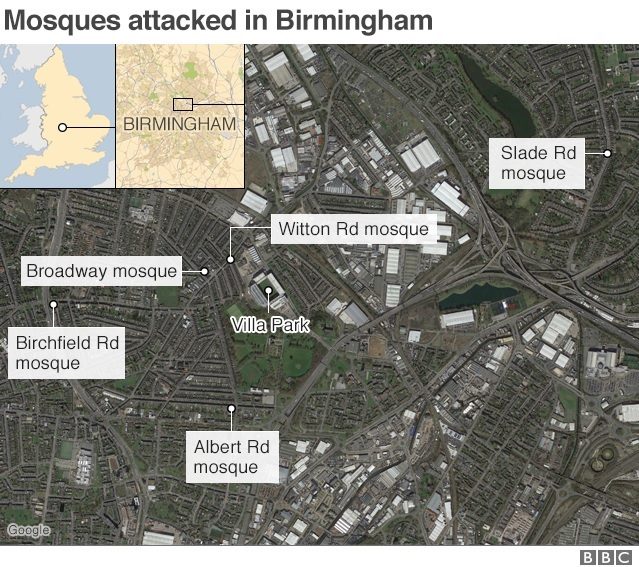 Thus far, officials have not confirmed that the man confronted by the vigilante this morning is the person who is responsible for last night's vandalism incidents, however, he is clearly a suspect considering the time of the arrest. It is very strange timing that the man was caught stalking Mosques and making a map the day after a string of vandalism occurs.
Chief Constable of West Midlands Police Dave Thompson said in a statement that, "At the moment we don't know the motive for last night's attacks. What I can say is that the force and the Counterterrorism Unit are working side-by-side to find whoever is responsible. Since the tragic events in Christchurch, New Zealand, officers and staff from West Midlands Police have been working closely with our faith partners across the region to offer reassurance and support at mosques, churches, and places of prayer."
UPDATE –  23 MAR 2019: Birmingham news reports:
A man has been detained under the Mental Health Act in connection to the attacks on five mosques. The 34-year-old from Perry Barr was arrested yesterday afternoon (March 22) after he handed himself into a Birmingham police station. A 38-year-old man from Yardley who was detained by members of the community on Friday, and arrested by officers, has been released without charge and has been ruled out of the on-going enquiry.
© AnonLAB 2019