Amazon Echo Saves All Your Voice Data, Police Are Now Accessing It
By: Matt Agorist via thefreethoughtproject.com
Amazon's Echo built upon the voice search capability of Android's 'Ok Google' and Apple's Siri and turned it into a device that is capable of doing everything from answering questions to turning on your on your air conditioner. However, like all beneficial technology, when the government gets involved, this useful household item is converted into a spying machine for the surveillance state.
In a seemingly unprecedented case out of Bentonville, Arkansas, the latest example of how police can use your technology against you is coming to fruition.
Investigators in Bentonville have filed search warrants with Amazon, requesting the recordings made on a man's Echo device between November 21 and November 22, 2015. The recordings belong to James A. Bates, who was charged with murder after a man was strangled to death in a hot tub.
According to CNET, while investigating, police noticed the Echo in the kitchen and pointed out that the music playing in the home could have been voice activated through the device. While the Echo records only after hearing the wake word, police are hoping that ambient noise or background chatter could have accidentally triggered the device, leading to some more clues.
"It is believed that these records are retained by Amazon.com and that they are evidence related to the case under investigation," police wrote in the search warrant.
According to court documents, Amazon has yet to concede to the search warrant and has not sent any recordings to police.
However, according to police, Amazon may not have to send over the files for cops to get them. According to the warrant, police believe they can tap into the hardware on the Echo, which could "potentially include time stamps, audio files or other data," reports CNET.
On top of Bates' Echo, police have also attempted to break into his phone, but were unsuccessful due to his password. In response to the delay in investigation caused by Amazon not sending the recordings and the phone password, the police department issued the following ominous response within the warrant.
"Our agency now has the ability to utilize data extraction methods that negate the need for passcodes and efforts to search Victor and Bates' devices will continue upon issuance of this warrant."
Police have also seized an iPhone 6S, a Macbook Pro, a PlayStation 4, three tablets, a Nest thermostat, a Honeywell alarm system, wireless weather monitoring in the backyard and WeMo devices for lighting at the smart home crime scene.
They also pulled the records for Bates' smart meter, which may have proven to be most useful as it shows an "excessive amount of water" used during the alleged strangling.
Of course, any information that can be used to solve a murder is helpful. However, this case will undoubtedly be used to set a precedent that police can subpoena these recordings at any time they see fit. It should also set off alarm bells to those who wish to maintain some level of privacy.
If you don't want the government to see something, don't store it digitally — which is why the following instructions are very important.
According to Amazon, when Amazon Echo or Echo Dot detect the wake word, when you press the action button on top of the devices, or when you press and hold your remote's microphone button, the light ring around the top of your Amazon Echo turns blue, to indicate that Amazon Echo is streaming audio to the Cloud.
All of the audio in the room is recorded and stored, not just what you think you are asking Echo.
The device also records everything in the room prior to you using the wake word. When you use the wake word, according to Amazon, the audio stream includes a fraction of a second of audio before the wake word, and closes once your question or request has been processed.
When you go inside the Settings menu in your Alexa app on your phone, you can listen to every one of your requests by selecting History.
Just as the police noted in their murder investigation, there are times that Alexa randomly starts recording without the wake word being said.
Luckily, deleting this audio is simple.
In the History menu of the mobile Alexa app, you can delete specific entries one by one by selecting it and then tapping the delete button. However, if you want to wipe your entire history, you'll need to do so at the Manage Your Content and Devices page at
Once logged in, you'll see the page, Manage Your Content and Devices. From here, click on Your Devices. Select the device from which you want to delete the audio, and a sub-menu will appear under it. Click on Manage voice recordings, and then click delete. Before deleting, Amazon presents you with the following warning.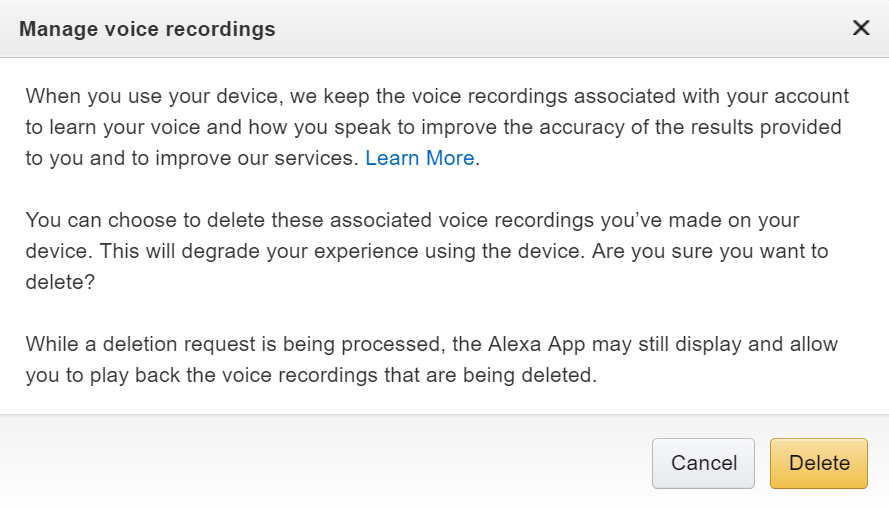 Once you click delete, a brief popup comes up letting you know that "Your deletion request has been received."
You can then check the mobile app and all voice recordings from that device will be immediately removed.
It is important to note that this technology itself is not the problem. Amazon records your requests to make your future requests faster and more accurate — and owning an Echo is entirely voluntary.
However, as the Free Thought Project has shown time and again, even if you are completely innocent of any crime, the police state can and will use anything against you in their attempt to prove otherwise.
This article originally appeared on thefreethoughtproject.com.