Bill Clinton 'knows nothing' about Jeffrey Epstein's ' terrible crimes; Spokesman says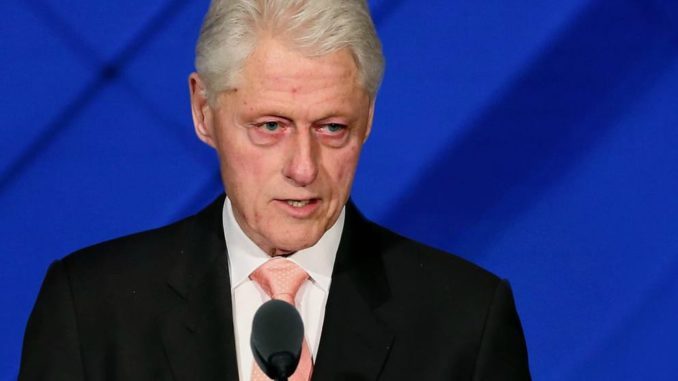 Bill Clinton issued a statement in response to the charges against his former associate Jeffrey Epstein, saying that he "knows nothing" about the "terrible crimes" that the billionaire financier has been accused of.
An indictment against Epstein has charged him with sex trafficking and sex trafficking conspiracy, but he has pled not guilty to all of the charges.
No one asked Clinton about his opinion on the matter, but it seems that the former President decided that it would be a good idea to get out in front of the news about his friend. A statement from a Clinton spokesperson read, "In 2002 and 2003, President Clinton took a total of four trips on Jeffrey Epstein's airplane: one to Europe, one to Asia, and two to Africa, which included stops in connection with the work of the Clinton Foundation. Staff, supporters of the foundation, and his Secret Service detail traveled on every leg of every trip."
The statement also explicitly denied that Clinton ever visited Epstein's now-infamous private island.
He had one meeting with Epstein in his Harlem office in 2002, and around the same time made one brief visit to Epstein's New York apartment with a staff member and his security detail. He's not spoken to Epstein in well over a decade, and he has never been to Little St. James Island, Epstein's ranch in New Mexico, or his residence in Florida," the statement continued.
According to prosecutors, Epstein operated a "vast network" for child human trafficking between 2002 and 2005, which allowed him to "sexually exploit and abuse dozens of underage girls."
The indictment also says that he paid his victims to recruit other underage girls, which "allowed Epstein to create an ever-expanding web of new victims."
"In so doing, Epstein maintained a steady supply of new victims to exploit," prosecutors said.
More evidence was discovered after the arrest, during the raid of Epstein's Manhattan mansion. Prosecutors said that they found multiple nude photographs of "what appeared to be underage girls."
According to the indictment, Epstein did not work alone either, he "worked and conspired with others, including employees and associates," who helped protect him and facilitate his crimes.
Epstein lured new victims into his home under the pretenses of being paid to give a massage, but then he would force himself on the victims.
"The victims, who were as young as 14 years of age, were told by Epstein or other individuals to partially or fully undress before beginning the 'massage,'. During the encounter, Epstein would escalate the nature and scope of physical contact with his victims to include, among other things, sex acts such as groping and direct and indirect contact with the victim's genitals," the indictment says.
It has been reported that many new victims are going to be testifying in this case. Considering the new witnesses and the additional evidence found during the raid, it is very possible that Epstein will not be able to buy his way out of trouble as he has in the past. Now Jeffrey Epstein has become a household name for all the wrong reasons, and it will not be so easy to hide from his crimes.