Diver Finds Giant Jellyfish That Is Larger Than A Human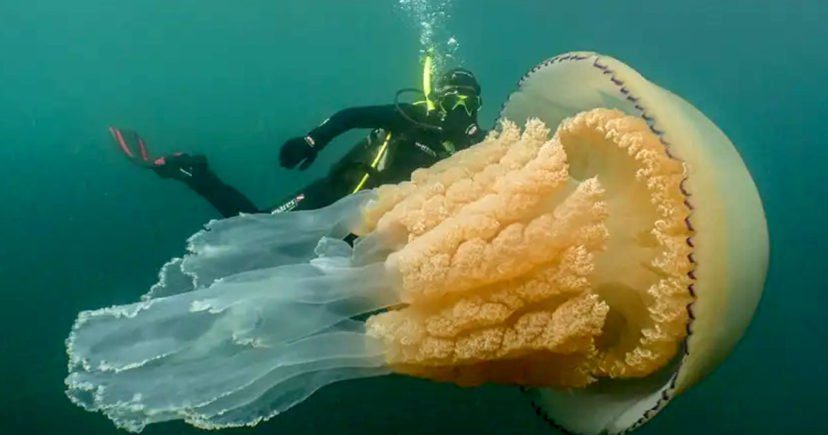 Lizzie Daly saw this incredible barrel jellyfish while diving near Falmouth , England, on Saturday, July 13th. Daly later told reporters that the jellyfish was so huge that it was almost bigger than she is. She said that it was certainly the largest jellyfish that she has ever seen in her life.
"Woah!!!!! We went diving in Falmouth yesterday to finish off #WildOceanWeek and came across this GIANT barrel jellyfish! What a way to finish off this marine wildlife adventure!" Daly said.
Barrel jellyfish are the largest jellyfish that can be found in waters near the UK, according to The Wildlife Trusts.
In addition to being a Diver, Daly is also a biologist and wildlife presenter, and she was diving in those waters as part of her Wild Ocean Week campaign, which is a fundraising effort for the Marine Conservation Society.
In a later statement about her dive, Daly said, "I want to bring the audience on the journey with me, so I will be uploading videos and updates live as it happens throughout the week. Diving with seals, swimming with blue sharks and generally celebrating our coasts #WildOceanWeek is about showcasing how you can immerse yourself with diverse wildlife right on your doorstep and most importantly, supporting those on the forefront of conserving our marine environments."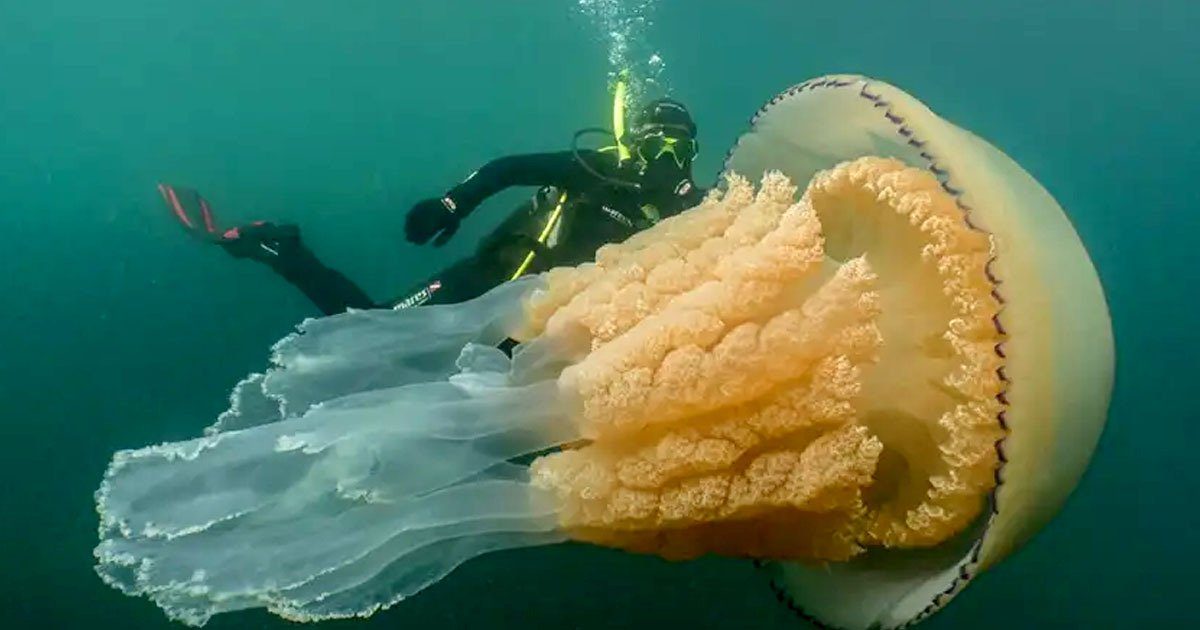 Photo Credit: @LizzieRDaly/Twitter
Luckily, while these jellyfish may look scary due to their size, they actually aren't very harmful to humans, according to Cathy Lucas, professor of marine biology at the National Oceanography Centre, Southampton. However, Lucas cautions that all jellyfish sting, even this specimen, however, the size of the creature does not mean that it has a harsher bite than the average jellyfish, in fact, its sting is about the same.
This actually isn't the largest species of jellyfish, that title goes to the lion's mane jellyfish, also known as the giant jellyfish or the hair jelly, which is the largest known species of jellyfish in the world.
The largest known specimen was found in 1870 off the coast of Massachusetts. Its bell averaged 2.3 meters in diameter and its tentacles reached 36.5 meters in length.
©2019 AnonLAB