FBI Releases New Hillary Clinton Investigation Documents
By: wearechange
The international whistle-blower organization Wikileaks announced that the FBI has quietly released a fifth set of documents in its Hillary Clinton investigation, and wait until you see what they tried to sweep under the rug.
FBI quietly releases new Hillary Clinton investigation documents (part 5) [as yet, no announcement] https://t.co/lmyWF5rA8H

— WikiLeaks (@wikileaks) January 9, 2017
The new release by the FBI is a 299 page report on the investigation into Hillary Clinton's use of a private server. While unconfirmed, these documents becoming public are likely a result of another FOIA request by Judicial Watch.
So far what has been found is that emails from Sidney Blumenthal "contained classified information."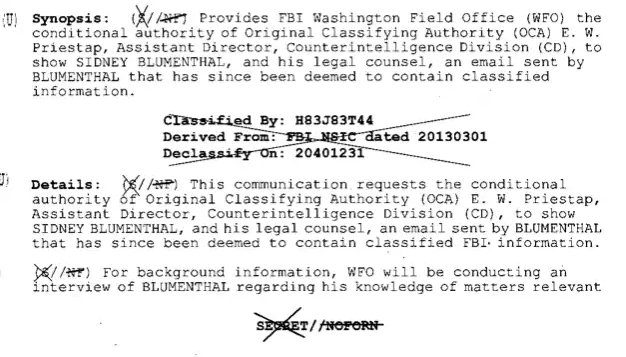 Also found is a passage that says, "Due to the extremely sensitive nature of this investigation and the damage its disclosure could cause the case will be designated as a prohibited investigation in accordance with the counterintelligence policy implementation guide." The document also states "the author request Assistant Director concurrence to maintain the identified case as prohibited."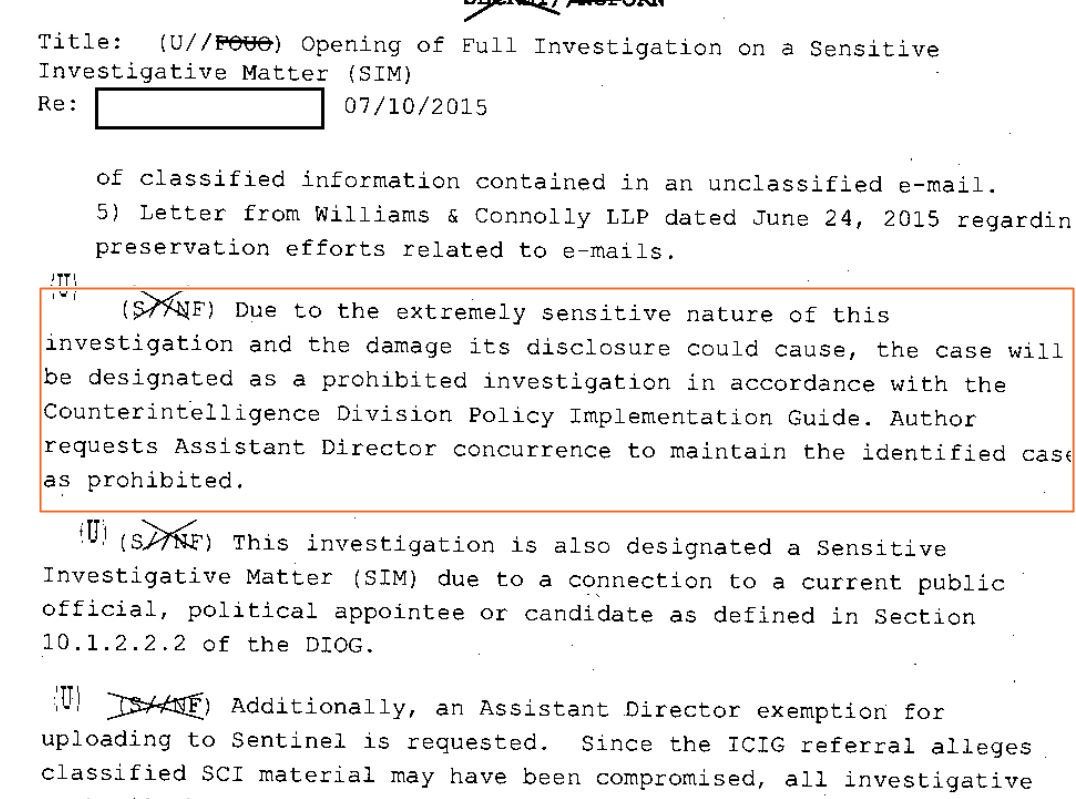 Did you read that red box above? It seems the initial FBI investigation was never set up to be investigated – merely a false public pretend-investigation that ultimately failed because of the public demanded real accountability following Wikileaks, the DNCLeaks, DNCLEAKS2 and John Podesta's emails.
Now this investigation has been reopened, and as I have been saying since all of this started, the FBI is investigating way more than Clinton – they are investigating the vehicle that Chris Ortel has called a fraud: the Clinton Foundation is being investigated for fraud, embezzlement, and other illegal practices. This release by the FBI exposes Comey, who said that "there had to be evidence that Mrs. Clinton intentionally transmitted or willfully mishandled classified information. The F.B.I. found neither, and as a result, he said, "our judgment is that no reasonable prosecutor would bring such a case."
The report later goes onto say, "USIC (U.S. Intelligence Community) determined that 81-email chains and an additional 2,000 emails contained classified information, 68 of which remain classified to this day."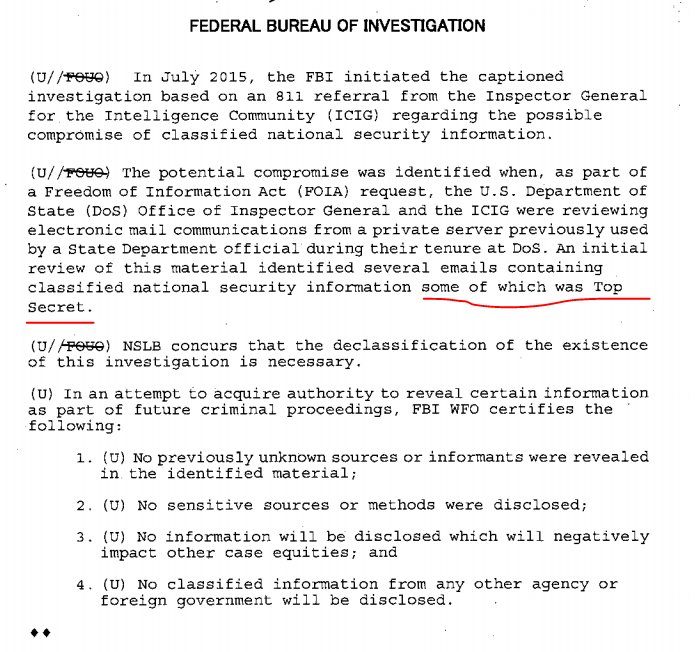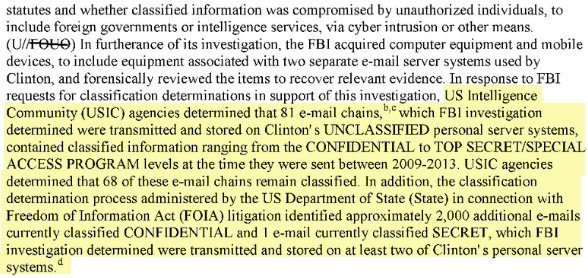 This FBI document also exposes that the FBI counter-terrorism division is involved in the investigation of Hillary Clinton, probably for her funding from Saudi Arabia and Qatar who she admitted was knowingly funding ISIS in Wikileaks emails. Then there is a part of the document that alleges that there is another investigation ongoing besides the CTD investigation. This is likely the Clinton Foundation investigation that the MSM constantly says doesn't exist but guess what it does!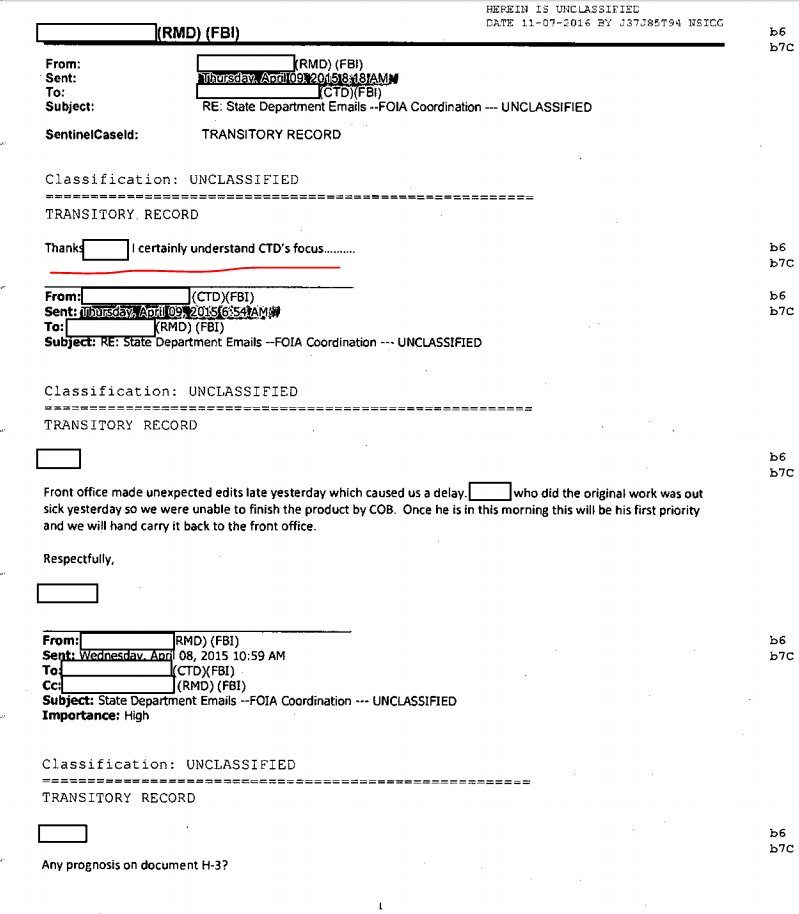 Page 213 exposes that the FBI requested 912 different email addresses that were sought in the investigation trying to identify recipients.