Google Tracks Your Every Move, But Here's How To Stop It
In the past several years, people around the world have been growing suspicious of the powerful tech companies that have infiltrated our lives in order to sell us advertisements. Google, in particular, has an immense amount of power because their services are so integrated with our phones, which we carry with us throughout the day.
Most of the advertisements on the internet are powered by Google, and in order to feed potential customers advertisements that they would actually be interested in, the company has developed a variety of different ways to learn about their users.
As we go about our business, our phones are tracking our locations, listening in to our conversations, and possibly even spying on us through the camera, but is there anything that we can do about it?
If you use any Google apps or services on your phone, the company is tracking your every move and recording the details of all your day to day travels and movements. Luckily, there is a way to manually control these logs and prevent them from tracking you in the future.
This can be done by performing a Privacy Check up, which can be found at the following link: myaccount.google.com/privacycheckup.
Bookmark this page so you can check back regularly.
When you have reached the privacy check up page, scroll down to "Location History" and click on "Manage Location History."
This is where the record of all your locations are stored. Next, click on "Manage Location History" at the bottom of the screen. There, you should see a button to turn off location history.
Next, click the settings button on the "Location History" map and select "Delete all location history."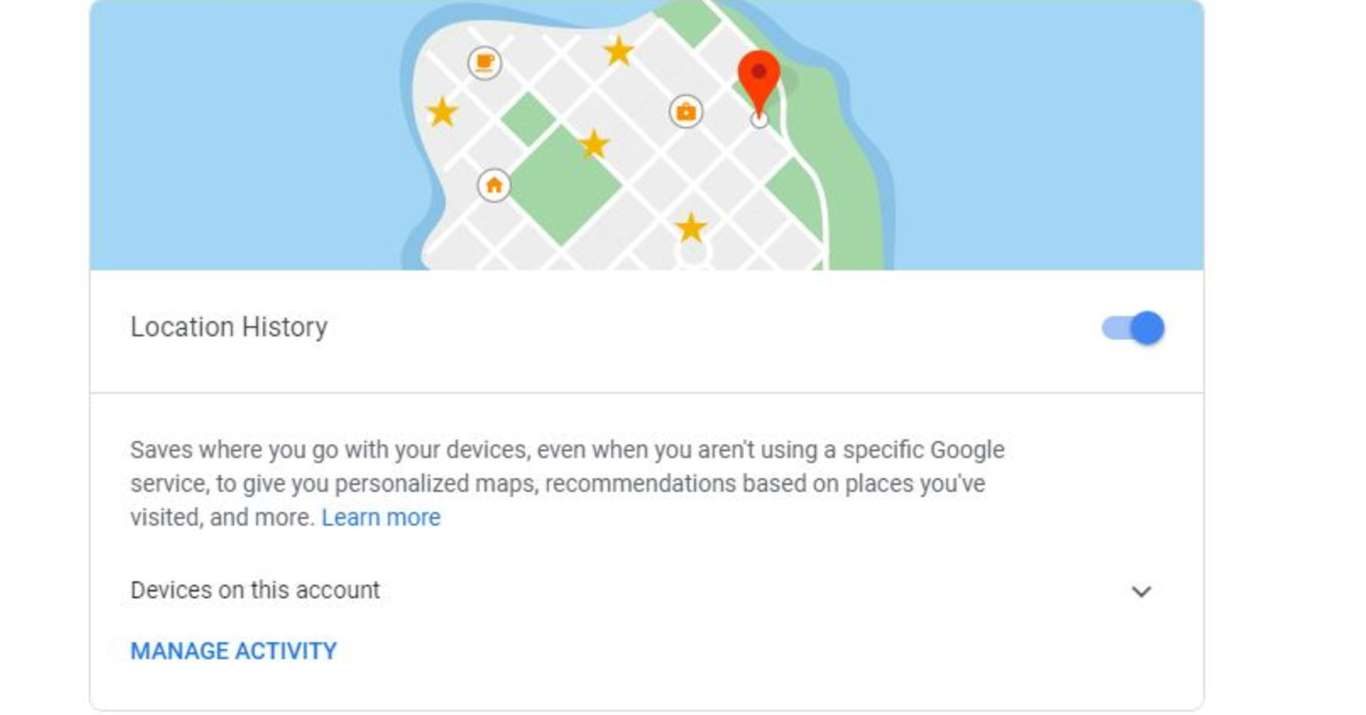 Turn off the option that allows Google to track your location history. / Photo Credit: CNBC
However, in order to prevent your location from being tracked in the future, you will need to take one extra step. You will also need to turn off the "Web & App Activity" tracker.
This feature reportedly tracks you so the company can offer "better recommendations, and more personalized experiences in Maps, Search, and other Google services."
To turn off this feature, go to myaccount.google.com/activitycontrols and turn off the "Web & Activity" switch.
Turn off the option that allows Google to track your web and app activity. Photo Credit: CNBC
This week, a new tool from vpnMentor gives mobile users a detailed look into how they are being tracked.
"Despite the familiar site message asking if you're willing to accept cookies, many don't realize what this entails," vpnMentor said in a statement.
All information in the interactive tool "is based on strict research, which have been clipped from the companies sites," a vpnMentor spokesperson told Fox News.
"For example, clicking on the tool's "Do Not Track Ignored" brings up sites that ignore the request – which is part of a broader problem of disregarding Do Not Track settings, as search engine DuckDuckGo points out separately. The vpnMentor tool also gives you a quick view of how major social media companies and online services handle privacy concerns such as "Access To Your Messages" and "Device Information & Usage." Fox reported.
The new tool also reveals that mobile users don't even need an account to be tracked by certain online services.
"While the majority of this data usage is benign or necessary for services to function, knowing which companies hold which data about you is the only way to track your privacy and how secure you really are. We recommend always reading the privacy policy to ensure you know what you're agreeing to," vpnMentor Internet security expert Gaya Polat said in a statement.
The statement noted that major dating sites are also notorious for sharing data with other tech companies in the same niche. To make matters worse, the terms and conditions of some of these datings sites give them access to your private messages. However, the experts at vpnMentor pointed out that there are exceptions that do make privacy a priority.
vpnMentor pointed to a dating app called Happn, which does not track the movements of its users.
"Instead, it only keeps track of when members are in close proximity and where they were when they crossed paths with another user," vpnMentor said.
© AnonLAB 2019