Homeless Veterans In Canadian Cities Getting Free Shelter In Tiny House Villages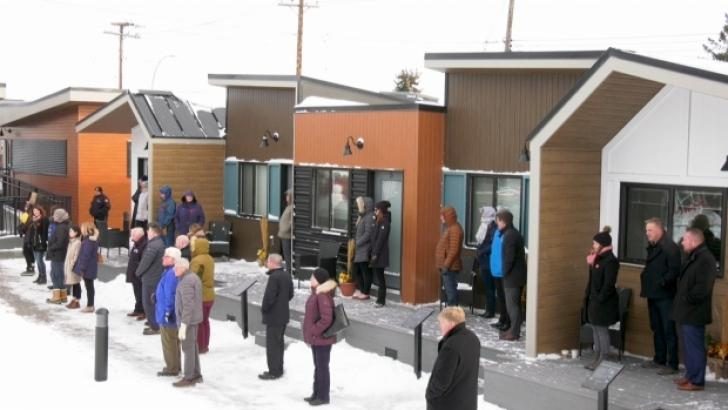 A shockingly high percentage of the veteran population in much of the western world suffers from homelessness, and despite their contributions to society, there are very few legitimate services available for them to reintegrate with life back home. Many western nations have veterans services set up for access to food and healthcare, but these services are often inadequate and only offer help in an institutionalized setting.
In different cities throughout Canada, tiny house villages are being developed for homeless veterans. In both Toronto and Calgary, these types of villages have popped up, thanks to an organization called "The Homes for Heroes Foundation"
Veteran outreach worker, Don Mcleod, says that it is important for veterans to be in the same community with one another because they can provide eachother with unique support that may not be available in other communities. Veterans have gone through a very unique experience, and share many of the same challenges.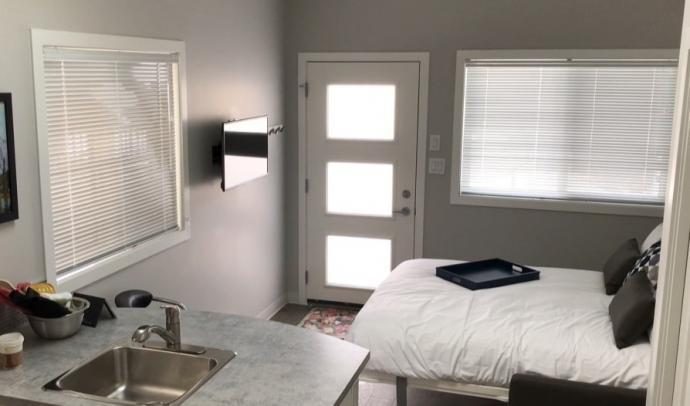 Inside of the tiny home. Photo Credit: Disclose
Don Mcleod, says that these veterans need a safe place to stay as they rebuilt their lives, and the community affords them the housing that they need to do that, as well as an outstanding social support network.
Many other regional businesses and charities have also jumped on board to support the venture. "The Homes for Heroes Foundation," has received donations from the local food bank and the officer of Veterans Affairs.
Mcleod explained that the veterans will be allowed to stay in the community for as long as they need to, but he hopes that these villages will just work as temporary transitions that will help them reintegrate with society. He estimates that for most veterans to come through, it would take about two years to make that transitionary process.
There has recently been some good news in the United States as well. According to the annual Homeless Assessment Report by the U.S. Department of Housing and Urban Development, the number of veterans who are homeless fell by 2% between 2018 and 2019. This continues a positive trend that has been occurring in the past few years.
That follows a decline of 5% from a year earlier and is down by almost 50% from 2009, according to military.com.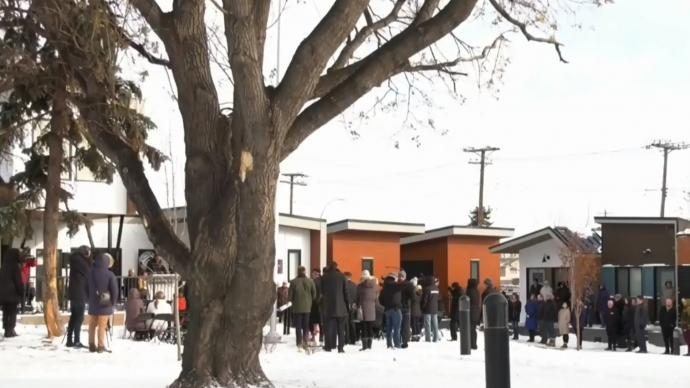 Opening day at the tiny home village. Photo Credit: Disclose
Housing and Urban Development Secretary Ben Carson said that these results were largely due to a program called the HUD-VA Supporting Housing Program, which gives homeless veterans permanent access to housing and other services. In the state of Pennsylvania alone, Veteran homelessness in Pennsylvania dropped by nearly 13% in the past year.
The report also announced that 78 local communities and three states have declared an effective end to veteran homelessness. These states are Virginia, Connecticut, and Delaware.
According to numbers published in January 2017, the state of California had the highest number of veterans experiencing homelessness. with an estimated 11,472 homeless veterans living in the state. After California, Florida has the largest population of homeless veterans, with an estimated 2,817, followed by Texas with 2,200.
The most recent numbers suggest that there is a total homeless population of 630,000 in the United States, with an estimated 67,000 of those people being military veterans
©2019 AnonLAB