Iran Threatens To Attack Israel As US Warships Deployed To Persian Gulf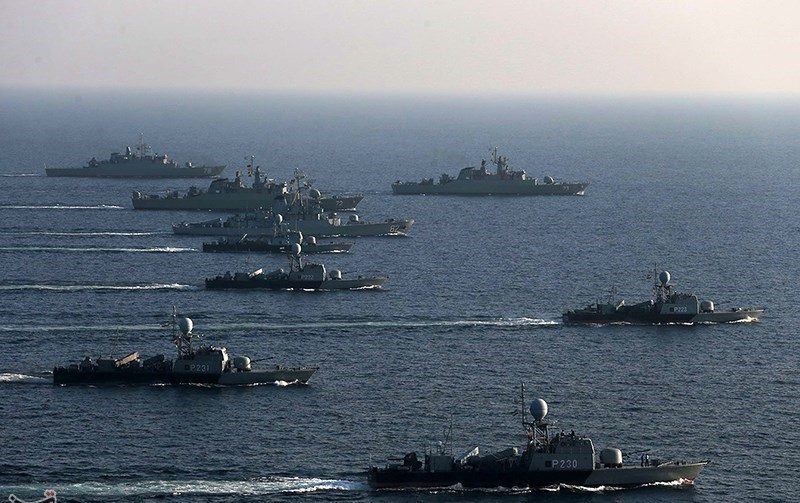 The United States military is on alert today after Iran issued a warning that they are aiming missiles at a deployment of US military forces in the Persian Gulf. They have also threatened Israel with an attack if a nearby United States aircraft carrier is used against them.
Iranian Parliament's vice-speaker Ali Motahhari told reporters this week that the military forces based in the region had started a 'psychological' war, and it is suspected by officials in Iran that the United States military is planning an attack.
Iranian military officials have been spooked by the large deployment of US military ships that have recently been sent to the area. This fleet includes the USS Lincoln, the fifth Nimitz-class aircraft carrier in the United States Navy, as well as numerous B-52 bombers. US military representatives have said that this deployment of western war ships on the Iranian border was a defensive maneuver to counter 'clear indications' of threats from Iran.
Mr Motahhari told FARS news agency that "The US military forces' deployment in the Persian Gulf is more of the nature of psychological warfare. They are not ready for a war, especially when Israel is within our range."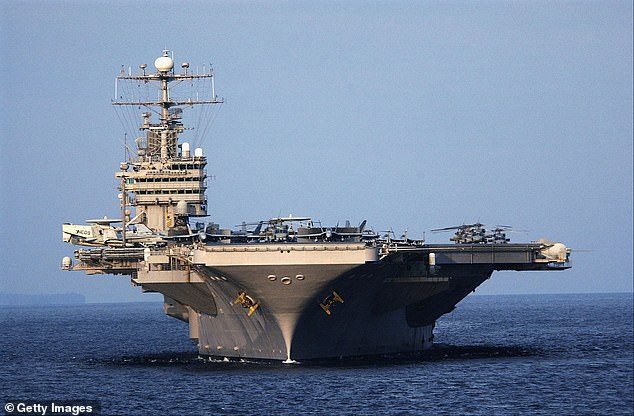 The USS Abraham Lincoln aircraft carrier (pictured) is replacing another carrier rotated out of the Gulf last month / Photo Credit: Getty Images, The Daily Mail
Revolutionary Guard's air force Amir Ali Hajizadeh also expressed concern about a potential threat from the United States, and vowed retaliation if there is any military action taken.
"An aircraft carrier that has at least 40 to 50 planes on it and 6,000 forces gathered within it was a serious threat for us in the past. But now it is a target and the threats have switched to opportunities. If [the Americans] make a move, we will hit them in the head," Amir Ali Hajizadeh told the Iranian Students' News Agency, according to The Daily Mail.
Former Finance Minister of Israel Yuval Steinitz told Ynet news that "anything could happen."
The U.S. military has sent forces to the Middle East to counter 'clear indications' of threats from Iran to American forces in the region / Photo Credit: Getty Images, The Daily Mail
"'Things are heating up. I wouldn't rule anything out. Iran may fire rockets at Israel. The American sanctions are breaking the neck of the Iranian economy, and a new and stronger wave [of sanctions] is still to come," Yuval Steinitz says.
United States Secretary of State Mike Pompeo told CNBC that Iran will be attacked if they interfere with any of the country's interests in the middle east.
"We've seen this reporting. It's real. It appears to be something that is current, that is things we're worried about today. In the event that Iran decided to come after an American interest – whether that be in Iraq or Afghanistan or Yemen or any place in the Middle East – we are prepared to respond in an appropriate way,' he said, adding that 'our aim is not war," Pompeo said.
Essentially, what Pompeo is saying is that the United States is not currently planning a pre-emptive attack on Iran, but the two countries have very different allies and interests in the region. Pompeo is giving military authorities in Iran a veiled threat to stay out of numerous military conflicts that the United States is involved in.
Iranian navy commander Rear Admiral Hossein Khanzadi said on Sunday that American forces must exit the Gulf.
"The presence of the Americans in the Persian Gulf region has reached its end and they must leave the region," Khanzadi said, according to ISNA.
Major General Hossein Salami of the Revolutionary Guard later clarified the "psychological warfare" comments made in regard to the US military's activities in the area. Salami told parliament that the United States is not only destroying the country with sanctions, but they are also amassing troops outside of their borders in a threatening manner.
"Commander Salami, with attention to the situation in the region, presented an analysis that the Americans have started a psychological war because the comings and goings of their military is a normal matter," parliamentary spokesman Behrouz Nemati said, according to parliament's ICANA news site.
Tensions have been escalating between the two nations for months now, and it unfortunately seems that the war of words has reached a boiling point. Stay tuned to this website for more information on this breaking story as it develops.
© Midialab LTD 2019