Tommy Robinson Punches Man After Getting A Milkshake Poured On His Head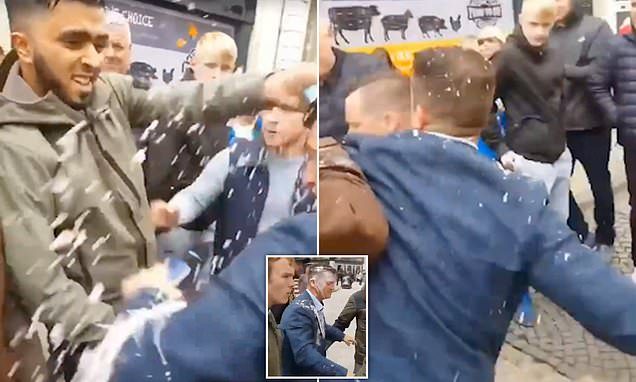 The controversial public provocateur who goes by Tommy Robinson repeatedly punched a man who dumped a milkshake on his head. Robinson, whose real name is Stephen Christopher Yaxley-Lennon, is known especially for his criticism of Muslims and his support for Brexit. Robinson is often called a far right extremist in the media.
While Robinson was campaigning in Warrington, Cheshire this week, he reportedly got into multiple confrontations, and a few of them were caught on film. In one of the videos, Robinson can be heard talking about one of his previous altercations. He can be heard accusing the man next to him of being 'overly aggressive' and said that 'the only person you pushed was a woman.'
Then, the man standing next to him pours a milkshake all over him. The pour was a direct hit, and splattered down the side of his face and his expensive suit.
The man responsible for the incident identified himself only as "Danny" in an interview with the Mirror, but later revealed his full name as Danyal Mahmud when speaking to Asian Image.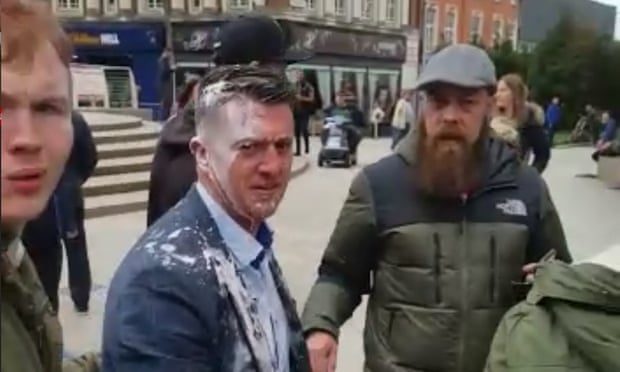 A milkshake was dumped on Tommy Robinson's head while he was campaigning to be elected as an independent MEP for the north-west of England. Photo Credit: Mirrorpix
"The police took me away but they told me they weren't going to do anything, they just wanted me out of that situation," he told the Mirror.
In the interview with Asian Image, Danyal says that Robinson was harassing him, following him around and demanding to debate him.
"I was in Warrington for a meeting and afterwards was on my way home. I had to pass this group of people. He [Robinson] just kept talking to me. I kept moving location. I was the only Asian guy there. I said to him I do not wish to speak to you on or off camera. I just got annoyed with him. A milkshake 'slipped' out of my hand. I had no intention of doing anything or reacting in any way. But he kept talking. I feel a bit shaken up and shocked to be honest," Danyal said.
It appears that in traditional provacatuer fashion, Robinson was doing his best to get a reaction out of people.
One of the men filming the encounter can be heard shouting at Robinson "that's what you get for being a fascist".
When asked about the incident, Cheshire Police told reporters that, 'We are aware of an allegation of assault made following an incident in Bridge Street in Warrington this afternoon. We are looking into the circumstances.'
A spokeswoman for the police department said they had given Robinson advice about security on his campaign but denied claims that he had been given a police escort. Footage taken earlier in the day during Robinson's campaigning in Warrington town centre appears to show another fight.
This is the second time that Robinson has been doused with a drink since he began his campaign.
Robinson says that the milkshake attack was the work of 'some Muslim supporter.'
"I was politically targeted. I so want to win this. No amount of punches, milkshakes, attacks or anything is going to stop me. Had a strawberry milkshake thrown over me by some I dunno, I'd say some Muslim supporter of course," Robinson said in a later video post to his fans.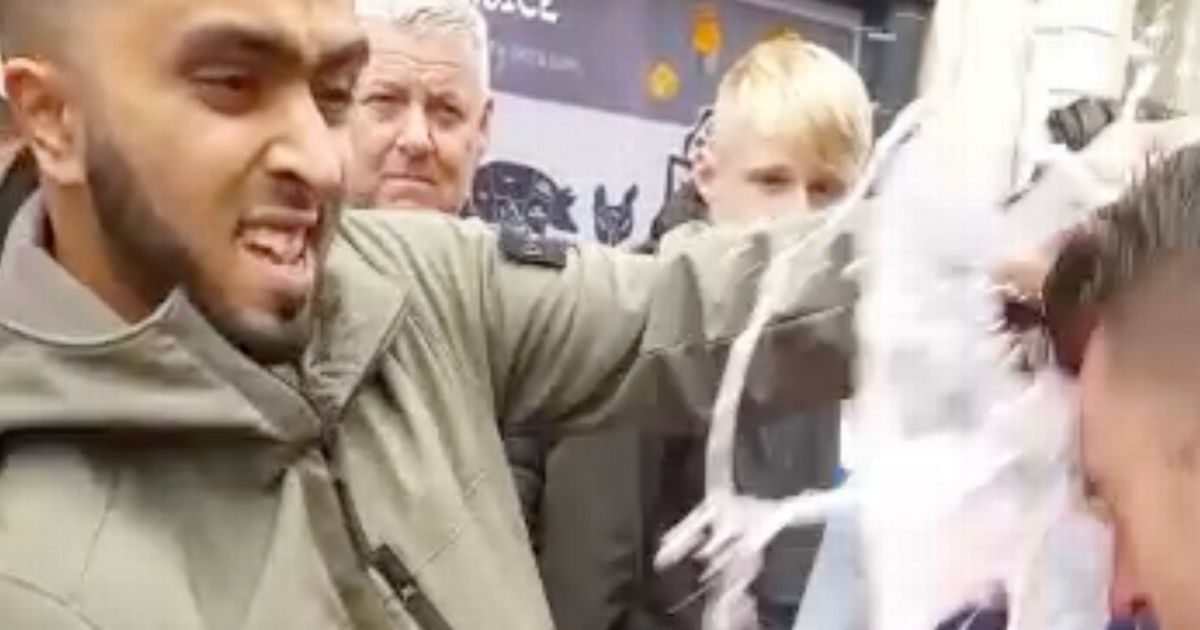 The moment of impact / Photo Credit: The Mirror
Robinson's campaign seems to stir up drama wherever it goes. In another video recorded in Salford, a woman can be seen confronting Robinson while he was out campaigning.
Robinson can be seen talking to the woman about 'Muslim grooming gangs,' but she responds by telling him that he is 'just spouting a load of s**t' to get publicity.
Earlier this year, Tommy Robinson was banned from Facebook.
In a blog post, Facebook said: "When ideas and opinions cross the line and amount to hate speech that may create an environment of intimidation and exclusion for certain groups in society – in some cases with potentially dangerous offline implications – we take action. Tommy Robinson's Facebook page has repeatedly broken these standards, posting material that uses dehumanizing language and calls for violence targeted at Muslims. He has also behaved in ways that violate our policies around organized hate."
© AnonLAB 2019