Gymnast Injured In Horrible Fall Smiles From Hospital Bed Before Surgery
As we reported this week, Samantha Cerio, a gymnast from Auburn University, Alabama, had a terrible fall at the NCAA gymnastics regional semifinal event in Baton Rouge, Louisiana.
The star gymnast for the Auburn Tigers ended up dislocating both of her knees during the fall, and damaging numerous ligaments. Initial reports suggested that she also broke both of her legs because they appeared to be broken and bent back in the video.
However, doctors determined that her legs were not broken, although she did have many other major injuries in her legs.
Onlookers at the event were horrified and concerned for the young woman, and video of the incident was shared millions of times all over the globe. Her fall and subsequent injuries were so unusual that many people who have been in the sport for decades have not seen anything like this before.
Warning: Graphic VideoStar Auburn gymnast breaks both legs in gruesome fall

Posted by Anthony Sisneros on Sunday, April 7, 2019
Luckily, the 22 year old woman is in good spirits and still has a bright future ahead of her.
Auburn's coach Jeff Graba made a post to Twitter this week saying that Cerio will be undergoing surgery.
"Senior Samantha Cerio suffered two dislocated knees Friday in Baton Rouge with multiple torn ligaments in both knees. Sam will undergo surgery this afternoon with Dr. James Andrews. The Auburn Athletics Department is thankful for the outstanding care that the Auburn and LSU medical staffs have provided to Sam. We are thankful for the support from the LSU Athletics Department for going above and beyond in this situation. Sam is a fighter and is in great spirits. We couldn't have a better leader for this team," Graba said.
LSU President F. King Alexander paid a visit to Cerio in the hospital, and took a picture with her smiling from her hospital bed.
Cerio later thanked Alexander for the support that she has received from him and the rest of the LSU staff.
Thank you so much for your support! I am blessed that @LSU and @LSUgym have been so kind and supportive through this situation! https://t.co/dxxVFZFICw

— sam_cerio (@sam_cerio) April 8, 2019
Sadly, shortly after the injury, Cerio announced that she will be retiring as a gymnast.
The young woman told her fans on Instagram:
Friday night was my final night as a gymnast. After 18 years I am hanging up my grips and leaving the chalk behind. I couldn't be prouder of the person that gymnastics has made me to become. It's taught me hard work, humility, integrity, and dedication, just to name a few. It's given me challenges and road blocks that I would have never imagined that has tested who I am as a person. It may not have ended the way I had planned, but nothing ever goes as planned.
Thank you Auburn family for giving me a home and a chance to continue doing the sport that will always be my first love. I am honored to have had the privilege to represent the navy and orange AU for the past 4 years with my team by my side. Thank you for letting me share my passion with you. Thank you for letting me be a part of something bigger than myself.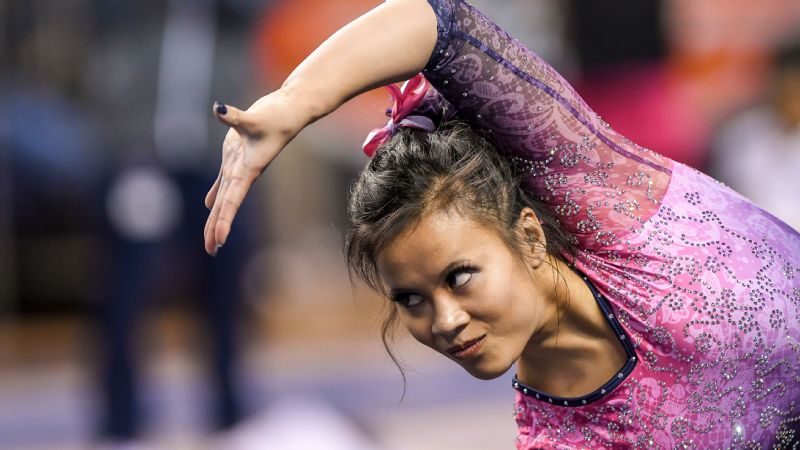 Photo Credit: Instagram Sam Cerio
This is not necessarily a sad ending to the story though, she never planned to make a career out of gymnastics. She was an outstanding student who earned All-SEC awards in 2017 and 2018 and landed on the All-SEC freshman team in 2016. She is also an aerospace engineering major who landed a job with Boeing in Seattle last year.
After accepting the job, Cerio said that she always knew that someday she would have to give up the sport.
"My parents have been the most supportive people ever, but they always reminded me that gymnastics won't always be there for you. Yes, if you're doing it, you want to do your absolute best because there's no reason to put yourself through training for so many hours a week and putting your body through so much stress if you're not going to do it to your best potential," Cerio said.
"But they always reminded me that gymnastics will end eventually, and you need to have something to fall back on, something that you can be passionate about just as equally," she added.
In addition to the very prestigious new job, Cerio is also planning on getting married to her long term partner Trey Wood this coming June.