British Nuclear Missile Flies in Wrong Direction to the United States in Failed Test
Theresa May is under pressure to come clean in the House of Commons about the failure of a Trident missile test after MPs accused her of covering up the truth before a crucial parliamentary vote on renewing the nuclear deterrent.
Labour and the Scottish National party said the prime minister must explain herself after it emerged that an unarmed missile malfunctioned during a rare test last June, shortly before MPs passed a motion in favour of replacing four submarines carrying Trident missiles at a cost of £40bn.
They demanded that she appear before MPs at the earliest opportunity after she declined four times to say what she knew during an interview on the BBC's Andrew Marr Show.
While expressing "absolute faith" in Trident, she refused to go into any details about the incident, which the government said it could not explain for "obvious national security reasons".
"There are tests that take place all the time, regularly, for our nuclear deterrents. What we were talking about in that debate that took place was about the future," May said.
Details of the incident were revealed by the Sunday Times, which said Downing Street knew about the error when May stood up in parliament to propose a motion on renewing Trident five days into her tenure at No 10.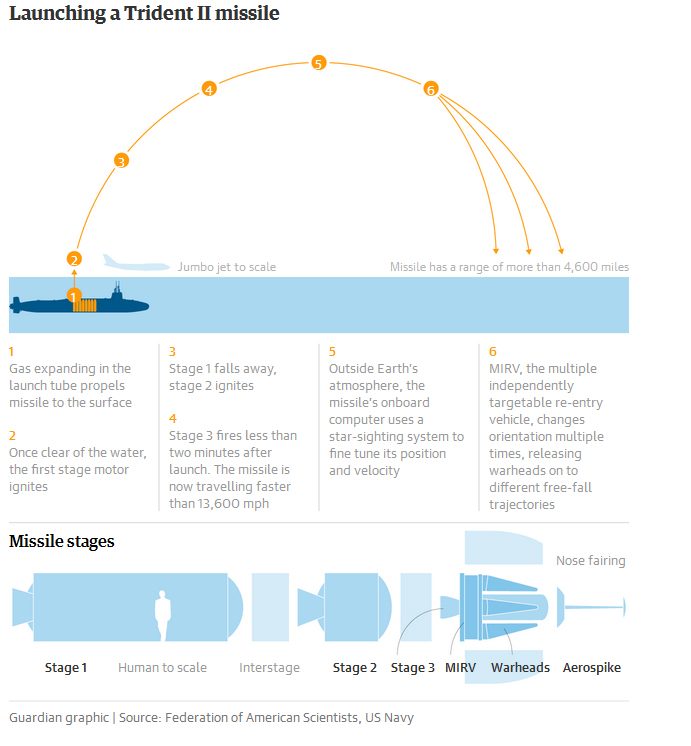 It reported that an unarmed Trident II D5 missile – which can kill millions when armed with nuclear warheads – malfunctioned when launched from a British submarine, HMS Vanguard, off the coast of Florida last year. It may have veered back towards the US rather than heading in the direction of west Africa.
Tests are rare as the missiles each cost about £17m. When trials have been carried out in the past they have been publicized, in some cases with accompanying video footage, but this is the first time last year's exercise has been reported.
In July, weeks after the test and days after May became prime minister, MPs voted overwhelmingly to spend up to £40bn on replacing Britain's Trident program.
May drew gasps during the parliamentary debate when she made clear she would be willing to authorize a nuclear strike killing 100,000 people. However, she made no mention of the test.
Jeremy Corbyn, the Labor leader, and Nicola Sturgeon, the SNP leader and Scotland's first minister, who both oppose renewing Trident, demanded more details about the episode.
Corbyn said it appeared the prime minister chose not to inform parliament about a "pretty catastrophic error". "Whilst it wasn't armed, goodness knows what the consequence of that could have been, I think we need a serious discussion about that," he said.
Article excerpt [theguardian]