Cyclists Are Getting $100 "Speeding Tickets" For Going Over 15MPH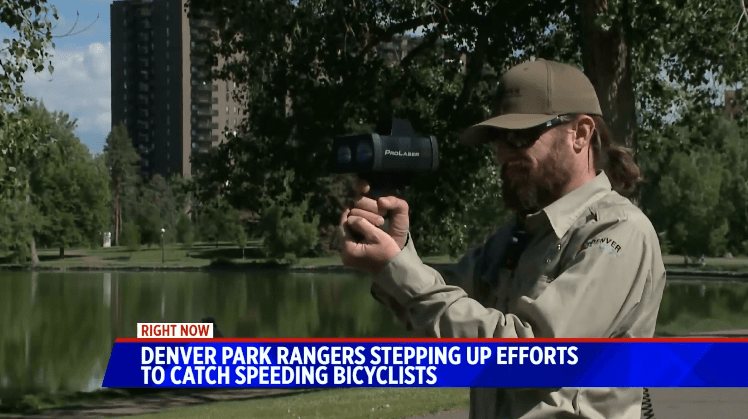 Park Rangers in Denver have begun stopping people who are riding their bikes too fast through the park, and ticketing them for speeding. This sounds like a joke, but it is no laughing matter, cyclists could face fines of $100 or more if caught.
The speed limit posted on trails in Denver Parks for bikers is 15 mph, although it is safe to say that most of them don't have speedometers on their bikes. Perhaps bikers may start investing in speedometers for their bikes if this policy continues.
According to a Denver Parks spokesperson, these fines are only given out for "egregious behavior." Cyndi Karvaski, a communications specialist with the department, insisted that warnings are usually given out first, and tickets are only written for people who blatantly violate the rules after numerous warnings.
"Our Park Rangers and Trails Team are hosting pop-up safety and educational outreach events to remind trail users of proper etiquette and safety on trails. Our Rangers are monitoring speeds to bring awareness to these issues as well as the 180-day rule that allows electronic vehicles on Denver trails and park facilities," Karvaski said, according to the Daily Sentinel.
However, it is safe to say that writing tickets is always at an officer's discretion, so there is a good chance that people will be written up without warnings. Another alarming fact about these rules is that the fines increase for repeat offenders.
Two violations within the same year will land a cyclist a $250 fine. If they break the biking speed limit a third time within a year they will be hit with a $500 fine.
Brian Weiss, a Denver lawyer who specializes in bike law says he does not know what the motivation for these new rules was.
"I am not aware of any particular incident or crash that caused the heightened speed reduction campaign or involvement," Weiss said.
"Speeds vary as one goes up or downhill and 15 mph is quite slow for a descent. It should be noted that in parks the paths are more narrow than streets and most of the Denver parks are relatively flat," he added.
Photo Credit: Ryan DeBerardinis, Shutterstock