"F**K Trump" Chants Break Out During Live FOX Broadcast After Women's World Cup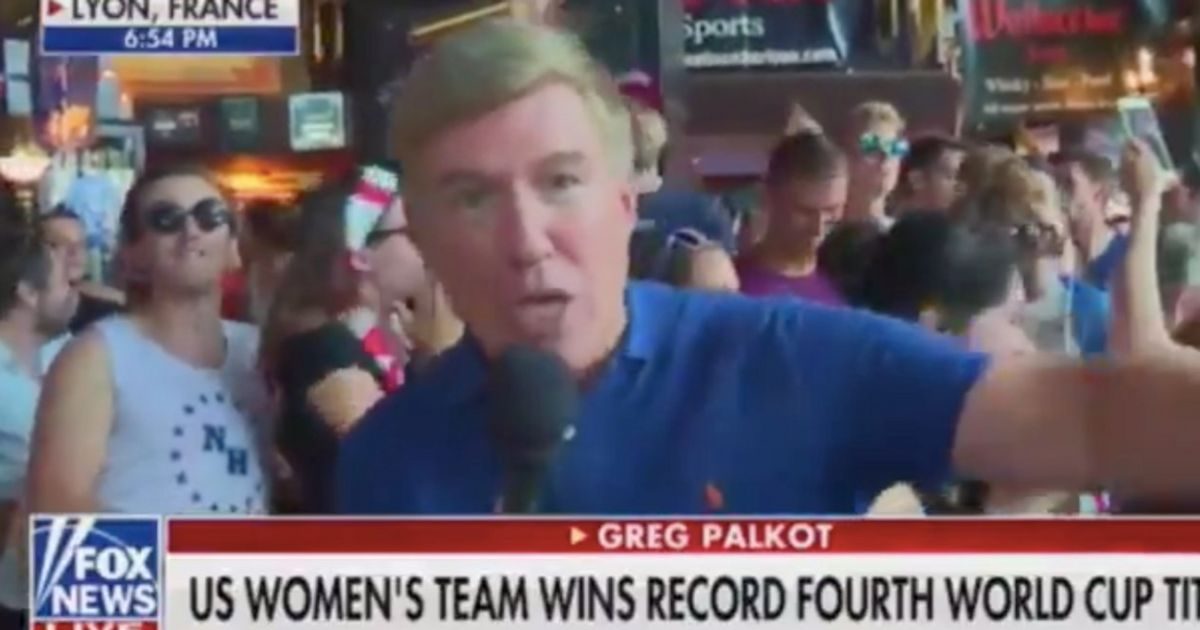 As the FOX News Network went live from a bar in Lyon, France, where celebrations were taking place after the United States won the Women's World Cup final, fans inside began to interrupt the broadcast with anti-Trump chants.
Reporter Greg Palkot must have not been entirely sure what the crowd was chanting, because for a moment he told the viewers at home to pay attention, but then when he realized what they were saying he moved on with his report.
"We are here in a sports bar in Lyon, France. Listen to what they're s…" Palkot says before trailing off.
The reporter then realizes that the bar is shouting a profanity laden anti-Trump chant.
The soccer team has been developing a rivalry with the Trump administration through the media during the championship games.
Megan Rapinoe, co-captain of the U.S. women's national soccer team, has made headlines by saying that she won't visit the White House in the event that the team wins the championship, and neither will most of her teammates.
"I'm not going to the f*****g White House. We're not gonna be invited, I doubt it," she said during an interview.
In a later statement, Rapinoe clarified her comments, saying that, "[Trump] tries to avoid inviting a team that might decline," she said. "Or, like he did when the (NBA's Golden State) Warriors turned him down (in 2017), he'll claim they hadn't been invited in the first place."
The rivalry between Trump and the team began after the president made derogatory comments about Rapinoe kneeling for the national anthem during her games. The soccer league has responded by forcing all players to "stand respectfully" during the anthem, so now, Rapinoe just stands silently with her hands at her side, instead of over her heart.
The US Women's team won the world cup in a 2-0 victory over the Netherlands.