Florida Man Gets Beat Up By The Easter Bunny After Hitting A Woman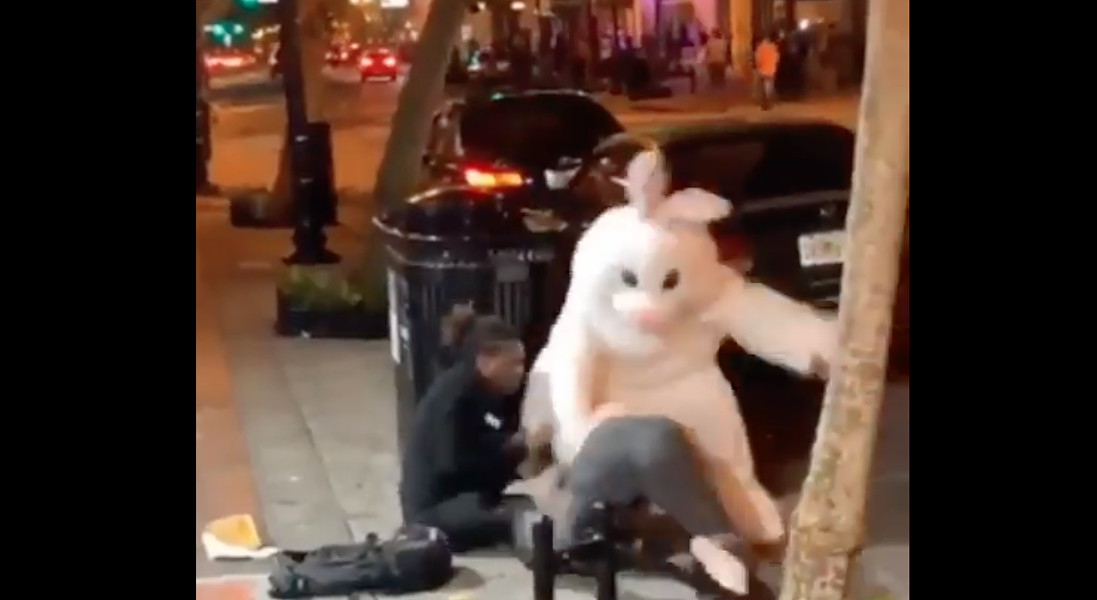 In Orlando, Florida, this week, on the night of Easter Sunday, a good Samaritan dressed up as the Easter Bunny got involved in a fight in the middle of a downtown street. The video of the fight begins with a young woman attempting to fight off an older man who was giving her trouble. The two get into an intense scuffle, and then a giant bunny comes from out of nowhere and begins to intervene.
Antoine McDonald, the man in the costume, said that he coincidentally bought the bunny suit a few months before and decided to wear it out for Easter Sunday as a joke. However, on his way out to the local club with some friends, he encountered the fight and saw that no one else was getting involved, so he took it upon himself to help the victim. McDonald witnessed the man spit on the woman and then punch her, which resulted in the fight seen on the video.
"I see this lady and this guy going back and forth, and I'm just looking at it and walking. Then I see him spit on her and she starts hitting him, so I walk over there. I try to help. I try to break up the fight at first. I felt I had to do something to help get him off of her to make sure she got away from [the] fight safely and unharmed," McDonald told Fox35.
Screenshot from video of Easter Bunny vigilante / Photo Credit: Heavy
"So I got over there so I could break up the fight, and with me trying to break up the fight, he got on top of her and hit her, so I had to try a different method, basically, to break up the fight, which actually worked," McDonald told NBC affiliate WESH of Orlando.
Not long after McDonald entered the scuffle with his bunny suit, police rushed to the scene to see what was happening. At first, the officers thought that he was one of the bad guys.
"The officer came up to me and said, 'If you do that again I'm going to arrest you and the damned bunny suit'," McDonald said.
Once the situation began to calm down a bit, the police were able to gather information from bystanders and learned that the man in the bunny suit actually saved the day.
Once the fight was over, McDonald can be seen hyping up the crowd, shadow boxing and dancing around for the cameras.
McDonald said that he really didn't think the fight would go viral or anything, but then later that night, he noticed that he was being recognized by people all over town.
"I'm walking down the street going about my day in my bunny suit and people are like, 'Oh, did you just get in a fight? Was that you?' I'm like, 'Excuse me?'" McDonald said.
"I didn't expect this, honestly," he added, but onlookers couldn't believe their eyes.
Josh Manes, manager of the nearby Underground Public House, was shocked when he saw a giant bunny fighting outside of his bar.
"I was at a loss for words. I guess that's how Sundays, fun days go around here in Orlando. I can't be too surprised. The cops broke them up, they shook the hand of the guy in the bunny suit and let him go. He was just partying, enjoying his Easter Sunday," Manes said.
This was an entirely random incident, but every year videos surface of drunk Santas getting into fights, only they aren't helping people, they are just causing trouble.
Last year, the New York Patch reported that hordes of drunken Santas drunkenly fought with one another and with NYPD officers.
"Hundreds of debaucherous Kris Kringles packed Manhattan's streets for Saturday's annual SantaCon bar crawl — and several Santas landed on the NYPD's naughty list. Costumed revelers swarmed Midtown and the East Village leaving behind a trail of beer, vomit and abandoned Santa hats. The NYPD had its hands full, issuing 50 summonses and arresting two Santas who couldn't handle their holiday spirits," the Patch reported.
© AnonLAB 2019