Police Draw Guns On Parents After 4-Year-Old Takes Dollar Store Toy Without Paying
A $10 million lawsuit was filed against the city of Phoenix, Arizona. According to the plaintiffs, police violently arrested a couple and pulled a gun on them after their 4-year-old daughter allegedly took a toy from the dollar store without paying for. Dravon Ames and his fiancee, Iesha Harper, say that they were terrorized by police this May, after leaving a dollar store location in the city.
Ames says that as he was on his way home from the store, he realized that his daughter took a doll from the store without paying for it. This is something very common for children to do, as many of them still don't understand how stores and theft actually works, these are still things that a child of that age is learning.
Moments later, when the couple arrived at the apartment complex where their baby sitter lives, they were immediately confronted by police in the parking lot.
The details about what happens next are disputed by the couple and the police, but a bystander later released a video that shows the encounter.
In the video, police can be seen pushing a handcuffed man against the side of the car and kicking his legs, shouting obscenities at him. Another officer can be seen handcuffing Harper.
The officer can be heard shouting, "When I tell you to do something, you f—— do it!"
There were no signs in the video that Ames was giving any trouble to the officers or attempting to resist arrest in any way.
Advertisement. Scroll to continue reading.
"I'm sorry, I'm sorry," Ames replied, as the officers continued to yell at him.
"When I tell you to do something, you f—— do it!" the officer repeated.
Other bystanders took footage from different angles.
One angle shows an officer with his gun drawn shouting, "Get your f—— hands up!"
At a news conference following the lawsuit, Harper said that police were yelling at her to get out of the car, but she was stuck in the back seat with her kids and could not get out of the car quickly or easily.
The City of Phoenix has been served with a notice of claim for $10 million for alleged excessive use of force and civil rights violation of a family.

Posted by 12 News on Thursday, June 13, 2019
"We're yelling out, 'The door doesn't open that side. It doesn't open.' Obviously, I don't have a gun with two kids in my hands," Harper explained.
One of the officers reportedly told Harper, "I could have shot you in front of your f—— kids," during the incident.
Advertisement. Scroll to continue reading.
The Phoenix Police Department did not have much to say about the incident, aside from recognizing that they had taken "two individuals into custody while investigating a shoplifting incident."
"A review of video surveillance showed a four year old girl walking out of the store with a baby doll, passing all open and operating points of sale, without anyone attempting to pay for the item," police said in a statement.
The family maintains that they had no clue their daughter had taken the doll, but police say that other items were stolen in the incident.
Police say that Ames also stole a pair of underwear from the store, which they claim he threw out the window as they were following him. They also say that an accomplice, 48-year-old Renita Biscoe, 48, had stolen items from the store too, but dropped it as police arrived so they were reportedly unable to recover the items. They also say that Biscoe originally gave them a fake name, because she had outstanding warrants.
Bisco was given a ride by the family from the store, and then dropped off at a different location before police were able to catch up with the car.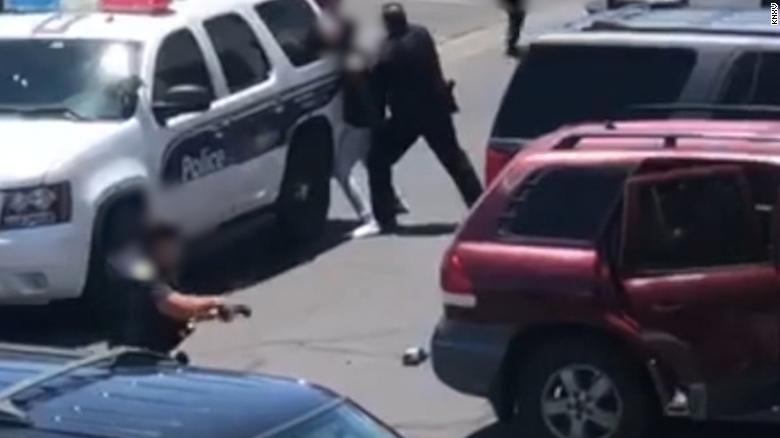 Video shows police drawing gun on parents. Photo Credit: CNN
The store where the theft reportedly took place is not pressing charges because the items have been recovered.
Ames was also accused of driving on a suspended license, and they impounded his vehicle.
"The Phoenix Police Department takes all allegations of misconduct seriously and for this reason, this incident is currently being investigated by the Professional Standards Bureau," a statement from police read.
The family's lawyer says that the arrests were based on an anonymous tip and was not reported by anyone at the store. In fact, for petty theft, stores often handle these situations internally, instead of dealing with police. Also, even if the family is guilty of everything the police say, this is certainly an excessive use of force for a $5 theft.
The lawsuit is seeking $2.5 million for each person who was victimized in the arrest. The family is seeking damages, claiming that the officers committed battery, unlawful imprisonment, false arrest, and other civil rights violations.