Swiss Billionaire To Donate $1 Billion Dollars To Save The Environment
This week, many people around the world were dismayed by the large sums of money that poured into the restoration of the Notre Dame Cathedral in Paris, France. Protesters in France over the weekend said that they were frustrated by the donations because so many other very serious issues are in need of financial support. Anonymous even sent a message out to the billionaire donors, putting them on notice and appealing to their sense of humanity.
Luckily, there are some wealthy people out there who are using their money for the betterment of the world. Just a few months ago, a Swiss billionaire pledged to donate a billion dollars (£769,470,000) towards environmental conservation efforts over the next ten years.
The philanthropist behind the donations is Hansjörg Wyss, CEO of the Wyss Foundation. Wyss made his donation several months before the fire at Notre Dame, but his charity sets a great example for others to follow, and his contribution is important to point out in the wake of the Notre Dame controversy.
In an Op-Ed for the New York Times announcing his massive pledge for the environment, Wyss said that he plans to have these lands opened to the public, not hidden behind gates.
The plan has the bold goal of protecting 30% of the planet by the year 2030.
Today, we're excited to announce the launch a $1 billion campaign to help protect 30% of the planet by 2030. Learn more at https://t.co/XK6iRrXOX1 pic.twitter.com/9wBvXVzCy7

— Wyss Campaign for Nature (@WyssCampaign) October 31, 2018
"It is the idea that wild lands and waters are best conserved not in private hands, locked behind gates, but as public national parks, wildlife refuges and marine reserves, forever open for everyone to experience and explore. The notion of holding these places in public trust was one I became deeply influenced by as a young man, when I first climbed and hiked on public lands in Colorado's Rocky Mountains," Wyss said.
Advertisement. Scroll to continue reading.
"Every one of us – citizens, philanthropists, business and government leaders – should be troubled by the enormous gap between how little of our natural world is currently protected and how much should be protected. It is a gap that we must urgently narrow, before our human footprint consumes the earth's remaining wild places," he added.
The Business Insider reported that Wyss got to work straight away, and had donated more than $66 million to at least nine organizations by the end of 2018.
The foundation is donating $750,000 to help the Dehcho First Nations in Canada to create a management program for the Edéhzhíe National Wildlife Area in the Northwest Territories, which is part of a 3.5 million acre wetlands ecosystem and home to many animals.
The foundation is also making a $5.8 million donation to Aves Argentinas, the oldest conservation group in Argentina. This donation will help create a 1.5 million acre national park. Wyss is also giving up to $22 million to Fundación Flora y Fauna, to establish a 178,000 acre national park in Argentina's Tucumán Province.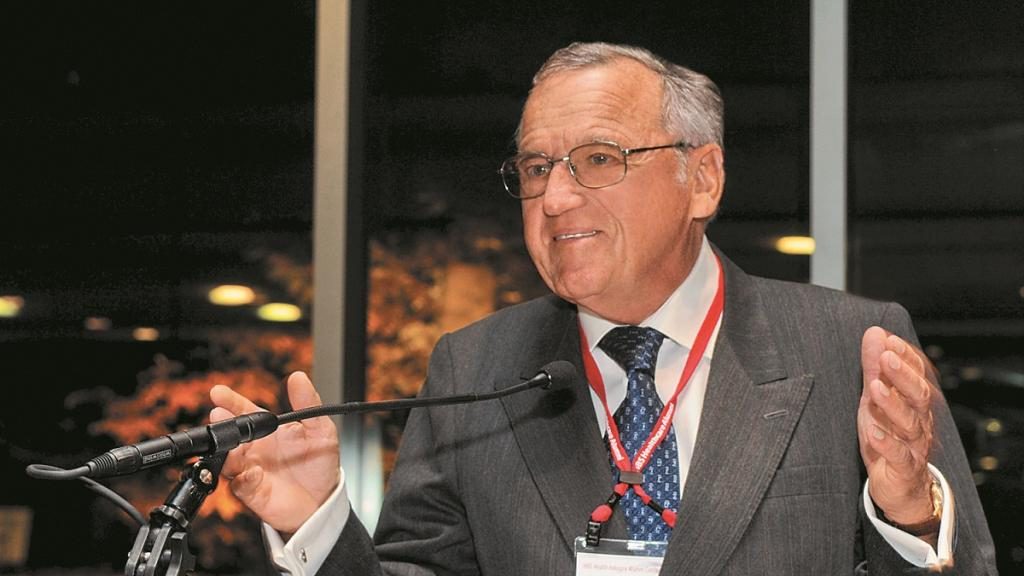 Hansjörg Wyss, Founder of the Wyss Foundation / Photo Credit: Neal Hamberg
The Wyss foundation has been working to protect the environment for many years, and has donated more than $450 million towards conservation efforts over the past 20 years. It is estimated that the Wyss Foundation has been able to save almost 40 million acres of land and water. However, this is his most bold and ambitious act of charity to date.
In his article, Wyss said that he believes that his goals may be ambitious, but they are very possible.
"This money will support locally led conservation efforts around the world, push for increased global targets for land and ocean protection, seek to raise public awareness about the importance of this effort, and fund scientific studies to identify the best strategies to reach our target. I believe this ambitious goal is achievable because I've seen what can be accomplished. Indigenous peoples, local leaders and conservation groups around the world are already busy setting aside protected areas that reflect the conservation, economic and cultural values of nearby communities," Wyss said.
"I've seen this unfold firsthand. Over the past two decades, my foundation has supported local efforts to protect wild places in Africa, South America, Europe, Canada, Mexico, and the United States, donating more than $450 million to help our partners conserve nearly 40 million acres of land and water," he added.
It is refreshing to see that there are some people out there who are putting their billions to good use.
Advertisement. Scroll to continue reading.