Shirt Ordered For 3-Year-Old From China Came With "Fuck The Pol*ce" Caption
Kelsey Dawn Williamson, a 23 year old mom from Benton, Illinois, bought her daughter a t shirt from AliExpress.com, but ended up getting something a little bit different than she expected. Kelsey was expecting a child sized t shirt featuring characters from the children's book "Frog And Toad."
The shirt was just $5 in the "LadyBaby Store" on AliExpress.com, so Kelsey decided to order it for her daughter Salem.
There was no text on the image of the shirt that was shown in the LadyBaby store, and it was described as a "Kids Two Frog Riding Design Baby Boys / Girl T Shirt Kids Funny Short Sleeve Tops Children Cute T Shirt."
However, when Kelsey received the shirt in the mail, the From and Toad image was on the front, but it also had large text that read, "FUCK THE POLICE."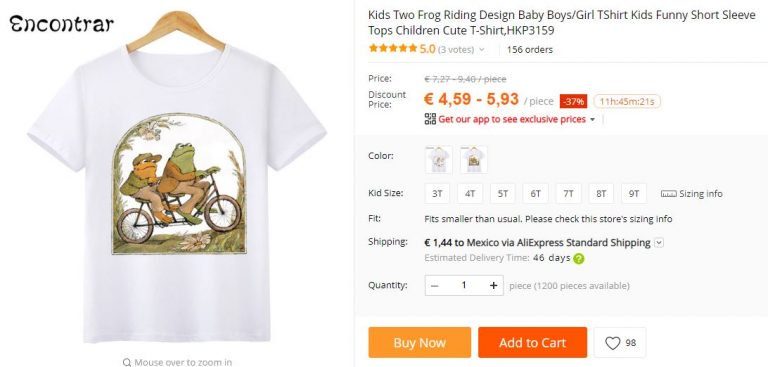 Photo Credit: Screenshot "LadyBaby Store" on AliExpress.com, courtesy of Buzz Feed News
Kelsey told Buzz Feed News that she was shocked, but not offended by the shirt. She actually thought that the whole situation was kind of funny.
"I literally did not know how to react so I just took a few moments to stare at it and try to process … Of all the things they could have added, why that? On a children's size shirt?" Kelsey said.
Kelsey then decided to share the amusing situation with her friends on social media, so she put the shirt on her daughter Salem and took a few pictures. Of course, the child is way too young to read, so she had no clue what it said.
Kelsey posted a photo to Facebook, showing Salem wearing the shirt, with the following caption:
"What I ordered VS what I received. I fucking love China. I cannot stop screaming. WHO DOES THIS."
It seems that whoever made the shirt took a Frog and Toad "fuck the police" meme that had been circulating on Reddit for use in their design. However, it is not clear if they were able to read English or understand what the message actually said.
Kelsey said that the image quickly went viral after she shared it with her friends.
"I originally just shared the t-shirt with only my friends until one of them wanted to share it to their profile, so I made it public. I definitely wasn't expecting it to go this far. It all happened so fast," the young mother explained.
Unfortunately, not everyone had a good sense of humor like Kelsey did. Some people who got offended by the shirt sent Kelsey mean and threatening messages.
"People were actually messaging me just to say mean things about her. A ton of people calling her fat, asking me what I feed her to make her so big, telling me the shirt I bought was too small," she said.
Some parents might have been angry or offended by getting an item like this, but Kelsey sees it as a memorable experience that Salem will get a laugh out of someday.
"I've told [Salem] 'people really like your frog shirt!' It's going in her baby box so we can bring it up when she's older," she said.
Sadly, the listing has since been removed from the store, so the shirt is no longer available for purchase.
This is a very similar situation to when English speaking people get Chinese words tattooed on them without actually knowing the true meaning behind the symbols.
Earlier this year, pop star Ariana Grande made headlines after getting a misspelled Japanese tattoo. She intended the tattoo to say "7 Rings" which is also the name of her newest album.
However, when she posted an image of the tattoo to social media, many people recognized that there was a misspelling in the art, and the tattoo actually said "shichirin," which is a small Japanese barbecue grill.
Grande later clarified that the original photo she posted was an incomplete version of the tattoo that she took while the work was in progress.
Grande says that the pain was so intense because of the location of the tattoo, and that the artwork had to be done in two sessions. Shortly after the controversy caused by her photo, the pop star said that she got the tattoo completed.
© AnonLAB 2018