Model Invaded Pitch During Champions League Final As Publicity Stunt For X Rated Site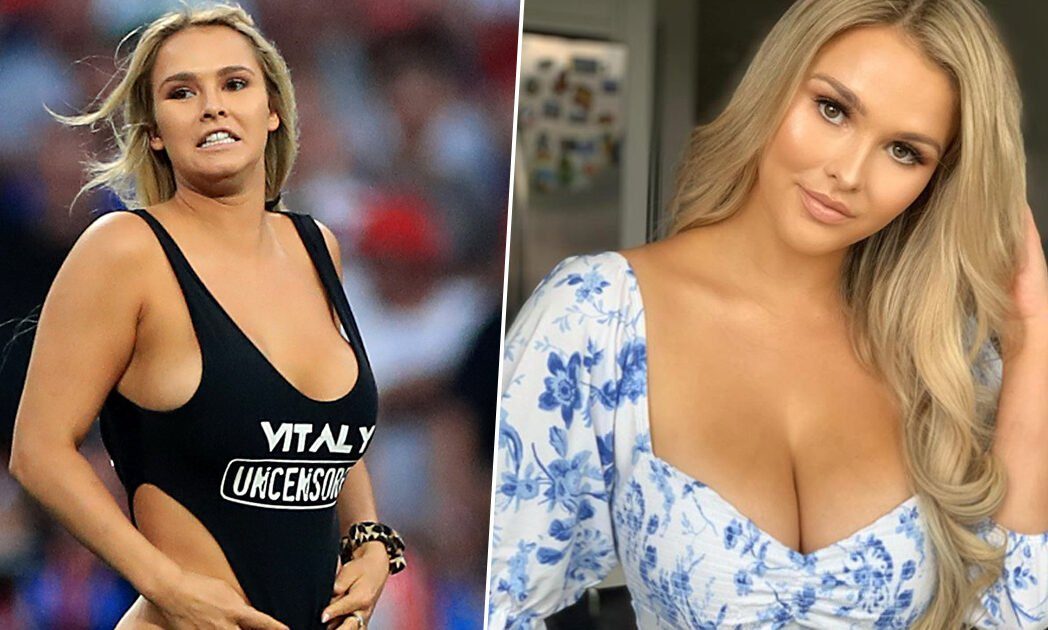 A woman wearing a skimpy swimsuit with the name and logo of an adult pranking website ran out onto the field during the Champions League final.
The woman was wearing a very revealing black outfit that had the name and logo of 'Vitaly Uncensored,' an x rated prank website owned by Vitaly Zdorovetskiy.
The woman is believed to be Kinsey Wolanski, a famous Russian-American swimsuit model who is also Zdorovetskiy's girlfriend.
Wolanski was escorted out of the stadium by security after the stunt, but she managed to run a good distance across the field before she was caught.
Zdorovetskiy pulled a similar prank at the 2014 World Cup Final where he ran on the field with no shirt, and the words 'natural born prankster' written on his chest.
Zdorovetskiy is banned from major sports events after his 2014 stunt, and it is expected that Wolanski will face similar repercussions for her actions this week.
On December 31, 2017, Zdorovetskiy and his girlfriend were escorted off Boca Raton Resort because online posts were discovered about a potential New Year's Eve prank, but Zdorovetskiy said he had no intention of making any prank videos at the resort.
Even though he was banned from the event, he managed to sneak inside in disguise.
Zdorovetskiy's YouTube videos, as of May 2019, have reached over 1.65 billion views and over 9.9 million subscribers, while his vlog channel has more than 260 million views and 2.0 million subscribers.
Zdorovetskiy reportedly attempted to become a professional skateboarder at an early age but gave up due to injuries. Zdorovetskiy also participated in x rated films before he turned 18 years old.
It is estimated that the prank orchestrated by the couple brought in nearly $4 million in free advertising for the website.
After the prank, Kinsey Wolanski quickly went viral on Instagram, rising from 300,000 to nearly 4 million followers in less than a day. However, not long after she posted a video of the incident to Instagram, she was suspended from the website.
Later, she posted a video to Twitter explaining that she had been hacked, but she did not say whether or not she would be able to return to Twitter.
Before her Instagram page was taken down, the model told her supporters:
"You guys I can't even fathom what is going on right now, I feel amazing and so thankful, I really could cry. I really did this just because I really want to push myself out my comfort zone, I love that feeling – that adrenaline feeling and doing crazy things. I love to do crazy things all the time, but I never thought it would get to this scale and all of your support and messages and everything is so amazing.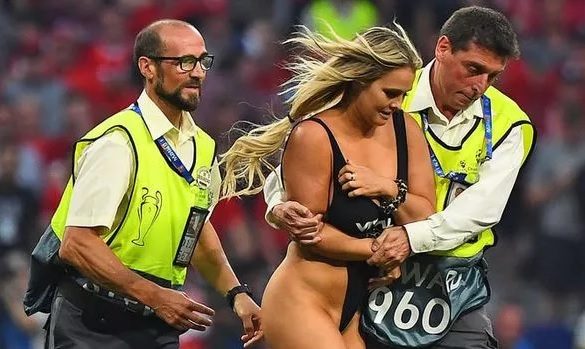 Kinsley Wolanski is apprehended by security after running across the field. Photo Credit: Getty
According to Wikipedia:
"The 2019 UEFA Champions League Final was the final match of the 2018–19 UEFA Champions League, the 64th season of Europe's premier club football tournament organised by UEFA, and the 27th season since it was rebranded the UEFA Champions League. It was played at the Wanda Metropolitano in Madrid, Spain on 1 June 2019,[5] between English sides Tottenham Hotspur, in their first European Cup final, and Liverpool, in their ninth final overall and their second in a row, having been defeated by Real Madrid in 2018. Liverpool won the final 2–0, with a penalty after 106 seconds from Mohamed Salah and a strike by substitute Divock Origi after 87 minutes."
Last year, the four members of the Russian feminist punk rock group Pussy Riot were jailed for 15 days after disrupting the World Cup final by running onto the pitch.
They were accused of violating the rules for spectators at sporting events and wearing police uniforms illegally, according to BBC.
They were also banned from attending sports events for three years.
For Pussy Riot, rushing onto the field was more of a protest than a publicity stunt. The activist musicians said in a later statement that their actions were intended as a protest against human rights abuses in Russia.
It seems that if you want to gather attention for something, whether it is a business venture or social cause, running out into the middle of an internationally televised sporting event and causing a scene is a good way to complete your goal.