Transgender Man Happily Announces He Is Pregnant With His Gay Husband
By: anon65
A pair of gay dads are expecting a baby together after one of them, who is transgender, became pregnant.
Trystan Reese, 34, and Biff Chaplow, from Portland, have revealed that they will be welcoming a child this summer after experiencing a heart-breaking miscarriage at six weeks in 2016, when trans-dad Trystan became pregnant for the first time.
The married couple, who are already parents to two children they adopted in 2015, announced the news on WNYC podcast, the Longest Shortest Time, with Trystan baring all about his journey as a pregnant dad.
After the miscarriage, Trystan initially wanted to wait for a year before they had another go at conceiving, but given the complications of restarting and then going off testosterone again led to the dads trying again right away.
It took longer the second time for the couple to conceive, and they even became worried that they had missed their 'only chance.' But then, six months into trying, Trystan woke up feeling sick. After Biff took the kids to school, Trystan took a pregnancy test and discovered the good news.
Luckily, this time things were different, though they felt spooked enough by the miscarriage to become obsessed with every little detail in the early days. Trystan began 'obsessively' weighing himself and took multiple other pregnancy tests in the weeks to come.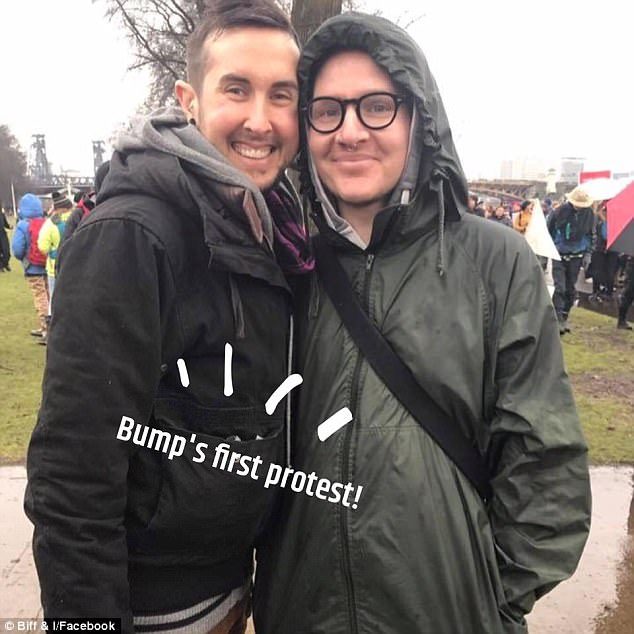 When it came to the six-week ultrasound appointment, the couple called ahead to the ob-gyn's office to let them know in advance, and make a note in his chart, about how they would be treating a pregnant trans-dad.
Trystan felt it was a necessary precaution, based on his experience as a transgender individual.
'I can feel someone looking at my face and searching for the remnants of womanhood, he said. '
'They kind of squint their eyes a little bit and I can tell they're trying to take away my beard, they're trying to de-transition me in their heads.'
However, his fears were happily unfounded.
'There just hasn't been an ounce of transphobia from anyone I have come in contact with,' he said. 'Every person wouldn't even bat an eye that there was a dude with a beard claiming to be pregnant who is here to get bloodwork done – and I have been trans long enough to know that doesn't come magically.'
Biff and Trystan first gained attention for sharing their journey to 'accidental' parenthood after, in 2011, their niece and nephew were put into their care after Biff's sister and her boyfriend were deemed unfit to care for them due to substance abuse issues.
Riley and Hailey had plenty of emotional baggage from their previous neglectful environment, but thanks to Biff and Trystan are happy and healthy and loved.
As for the new addition to the family, they revealed that they will be soon welcoming a son, who they joke about in the family as being 'diagnosis: male.'
Source: www.dailymail.co.uk