19 Year Old Utah Boy Has Survived 3 Terrorist Attacks, Brussels, Paris and Boston
(people) – The family of 19-year-old Mason Wells received the horrifying news on Tuesday that their son had been injured in the terror attack at Brussels Zaventem Airport Departures Hall, but the teen is reassuring his parents Chad and Kymberly Wells that he's going to be just fine.
His parents spoke through tears in a phone call to their son, with Wells' father vowing to catch a plane to Paris as soon as he could.
"I don't feel like you need to come to Europe, but I'm not going to stop you if you guys … if you want to, Dad," he said speaking calmly in the phone call captured by Good Morning America.
"The burns aren't too bad at all, so they're pretty sure they're not gonna scar," he said, noting that he suffered burns to the right side of his head and by his ear. "Yeah, and then my right hand is also kind of badly burned."
Wells told his parents that he would remain in the hospital for a few weeks.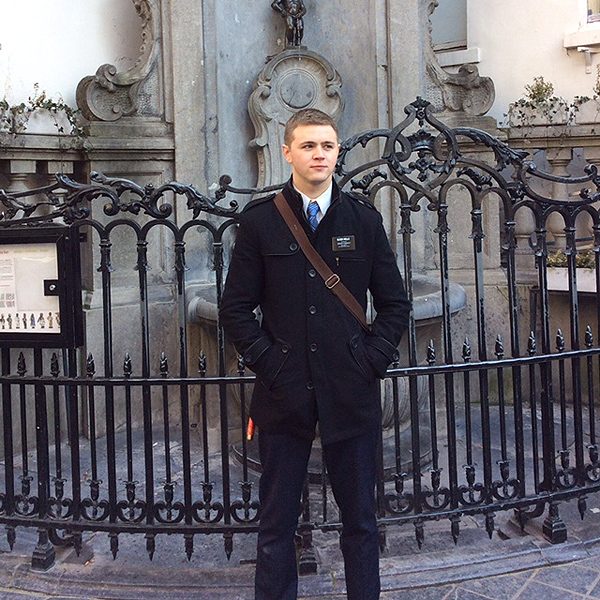 Mason Wells in Brussels five weeks ago – Kymberly Wells
"We are grateful that our son, Elder Mason Wells, survived the attack and is receiving quality medical care. We have spoken to him briefly and he feels blessed that he wasn't injured more given his close proximity to the bomb," the parents previously said in a statement obtained by PEOPLE. "He has undergone surgery to repair his Achilles heel and he's also been treated for burns and shrapnel injuries.
"As a family, we feel the power of prayer from those we know and those who only heard Mason's name for the first time today. We will continue to pray and hope for everyone affected by this tragedy."
While the family can rest assured that Mason is alive and well, this is a situation they're all too familiar with. In a separate interview with ABC, Chad revealed that this isn't his son's first brush with terrorism.
As he told the network that his son was present during both the 2013 Boston Marathon bombings and last year's Paris attacks that killed 129 and injured 352, Kymberly added Mason had been "calm and composed" in the past.
"This is his third terrorist attack," Chad continued. "This is the third time that sadly in our society that we have a connection to a bomb blast. We live in a dangerous world and not everyone is kind and loving."
Mason, who is a Mormon missionary from Utah, was at the airport along with two other men – Richard Norby, 66, and Josephy Empey, 20 – to send off their fellow missionary Sister Fanny Rachel Clain, 20, from France, who was departing for an assignment in Ohio. She was not injured.
Along with the explosion at the airport, the Maaelbeek Metro Station was also attacked, with both incidents killing a total of 31 people and injuring 187.
The terrorist attacks – which ISIS has claimed responsibility for – came on the heels of anti-terror and the arrest of Paris terror attack suspect Salah Abdeslam on Friday. Brussels has been on a level three terror alert, with authorities warning that a large network of terrorists remained at large.