Everything That Disney Owns: Charts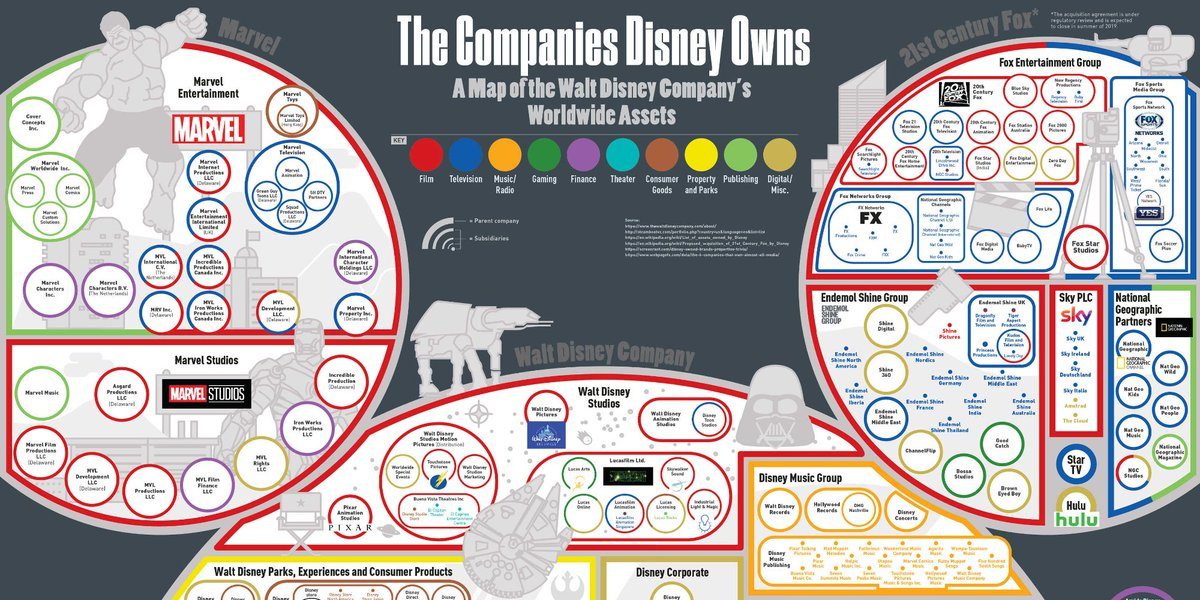 The Walt Disney Company has been furiously acquiring various entertainment studios and businesses in recent decades, and has just expanded its media empire with the acquisition of Fox.
As a part of the FOX deal, Disney acquired, Fox Family and Fox Animation, Twentieth Century Fox, Fox Searchlight Pictures, and Fox 2000 Pictures; Fox's television creative units, Twentieth Century Fox Television, FX Productions, and Fox21; FX Networks; National Geographic Partners; Fox Networks Group International; Star India; as well as the company's stake in Hulu, Tata Sky, and Endemol Shine Group shows.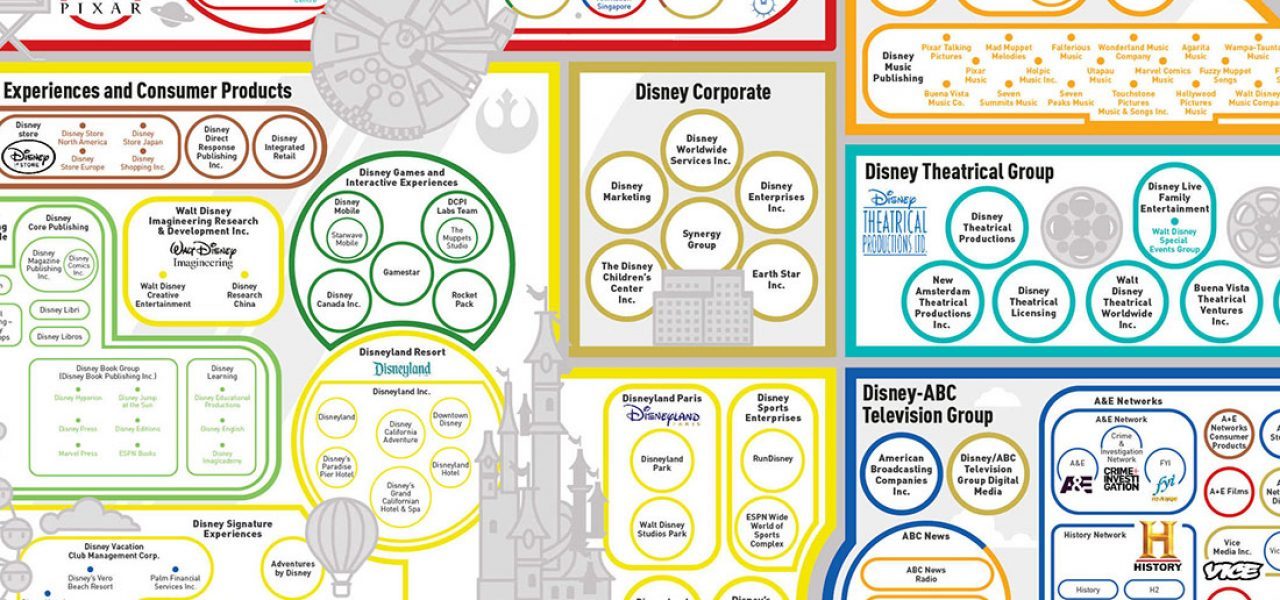 In addition to FOX, Disney also owns Marvel, Lucasfilm, and Pixar, along with a variety of other smaller brands. Disney's portfolio also includes. ESPN, Touchstone Pictures, A&E, The History Channel, Lifetime, Hollywood Records, and Vice Media. This is on top of the already extremely lucrative Disney businesses, which include Disney films, the television brand as well as the stores, theme parks, and merchandise.
The chart below shows the full extent of Disney's domination over the entertainment industry.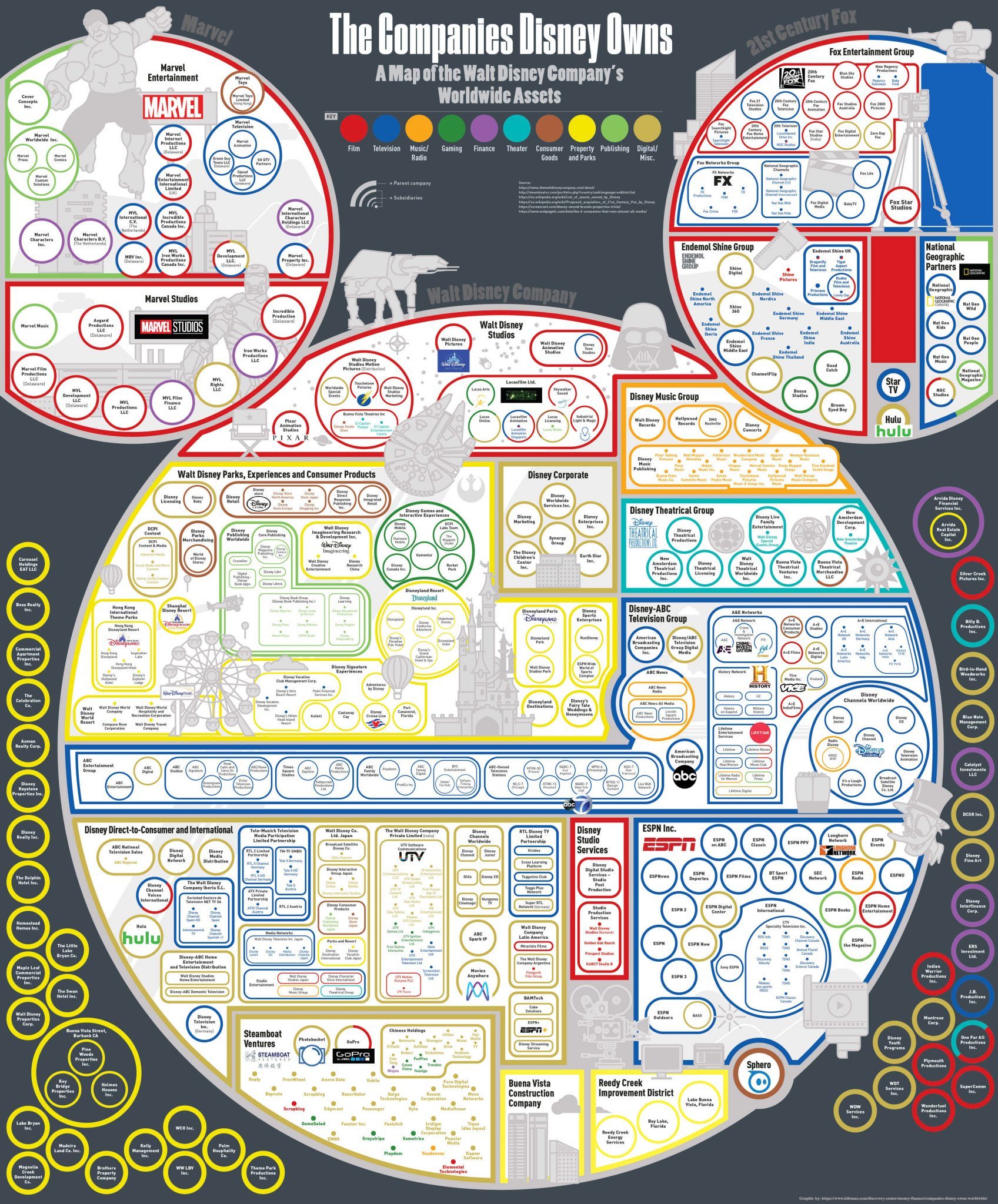 The above graphic showing Disney's media dominance was provided by CartoonBrew.com.
Last month, heiress Abigail Disney sparked controversy after criticizing the company for paying its employees such low wages.
In an explosive opinion piece for The Washington Post, titled "It's time to call out my family's company — and anyone else rich off their workers' backs," Abigail Disney called attention to the extreme disparity between the pay of the workers and that of the CEO.
"This growth in inequality has affected every corner of American life. We are increasingly a lopsided, barbell nation, where the middle class is shrinking, a very few, very affluent people own a great deal and the majority have relatively little. What is more, as their wealth has grown, the super-rich have invested heavily in politicians, policies and social messaging to pad their already grotesque advantages," she said in her article.
"I have been quietly grumbling about this issue for some time now, uncertain how public to be. It is time to call out the men and women who lead us and to draw a line in the sand about how low we are prepared to let hard-working people sink while top management takes home ever-more-outrageous sums of money. It is unreasonable to expect corporate boards to act as a check on this trend; they are almost universally made up of CEOs, former CEOs and people who long to be CEOs," she added.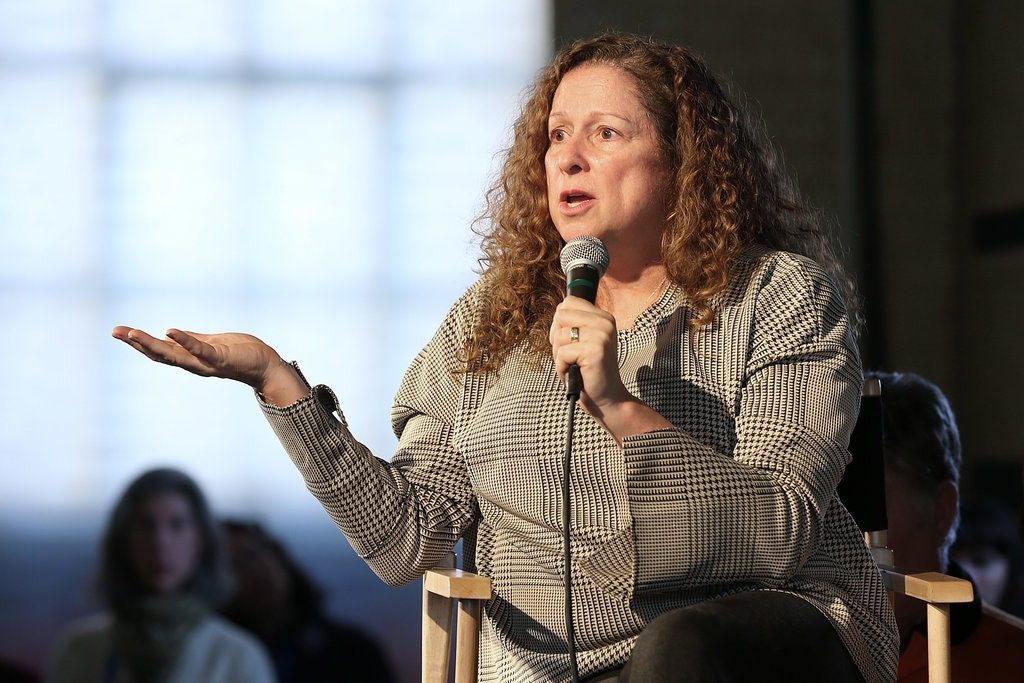 Abigail Disney speaks to an audience in Park City, Utah, last year. Photo Credit: Phillip Faraone, Getty Images and Refinery29
Ms. Disney is a granddaughter of Roy O. Disney, who founded Disney in 1923 with his brother, Walt Disney.
The Disney family has not been involved in running the company since Roy E. Disney, Abigail's father, stepped down from the board in 2003. Abigail is reportedly very generous with her large inheritance and is involved in numerous charitable and philanthropic efforts.
In a later statement, the company defended its reputation, saying that Disney employees are treated very well.
"Disney has made historic investments to expand the earning potential and upward mobility of our workers, implementing a starting hourly wage of $15 at Disneyland that's double the federal minimum wage," the company said in a statement.
In the early 1980s, there were over 50 corporations which controlled all of the news media in America. This is a small number considering that it accounted for television, movies, magazines, books, and music all combined. Before the First World War, there were actually hundreds of corporations that made up the US media. This corporate monopolization is largely due to government regulation that prevents independent journalists from reaching the masses.
In 1983 a man by the name of Ben Bagdikian published a book called "The Media Monopoly" which pointed out the consolidation going on in the media at the time.
In his book, Bagdikian predicted that the meager number of 50 corporations would dwindle very quickly to less than a dozen companies in the coming decades.
His predictions were met with a great deal of criticism in the mainstream circuit, and that was to be expected considering they were the target of his accusations. Sure enough though, over the next 25 years, the media would be consolidated into fewer and fewer hands.
© AnonLAB 2018