Over 100 Neglected Lions Found In Abandoned Facility
At an abandoned facility in South Africa's North West province, more than 100 lions were found neglected and in terrible conditions. Some of the animals were near death and riddled with disease. The animals were found overcrowded and without food and water, in some of the worst conditions that many wildlife workers have seen.
A journalist found out about the facility from a tipster while they were working on an unrelated story. The journalist then contacted the National Council for Societies for the Prevention of Cruelty to Animals (NSPCA), who oversees enforcement of wildlife protections in the country.
When investigators arrived at the location, they found the animals packed together in small enclosures that were only suited for two lions, but were filled with up to 30.
The investigators found at least 27 lions infected with mange and parasitic mites, and some of them had nearly lost all of their fur. A few of the lion cubs were suffering from meningoencephalitis, which is a very serious neurological condition that causes an inflammation of the brain. This condition can make it impossible for the animals to walk, eat or perform basic functions. Unfortunately, at least three of the cubs were so badly afflicted with the horrific brain disease that they needed to be euthanized.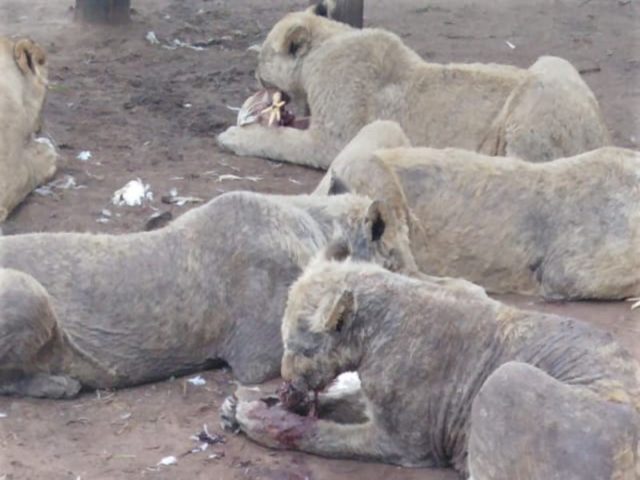 Photo Credit: HUMANE SOCIETY INTERNATIONAL
Douglas Wolhuter, manager of the NSPCA wildlife protection unit that investigated the facility said that the experience was "soul destroying."
"It's hard to describe because it leaves you feeling hollow, knowing that you've got the king of the jungle in conditions like that," Wolhunter said.
Wolhunter also noted that there were a variety of other animals locked up at the facility as well, including caracals, tigers, and leopards.
"Other issues such as small enclosures and inadequate shelter, no provision of water, overcrowding, and filthy and parasitic conditions were noted in the camps that contained the lions, caracals, tigers, and leopards. Twenty-seven of the lions had mange and the caracals were obese and unable to properly groom themselves," he added.
The facility was located at a place called Pienika Farm, which is owned by a man named Jan Steinman. Steinman is reportedly a council member of the South African Predator Association (SAPA), an organization that advocates for hunting and captive breeding of endangered animals like lions. The group believes that hunting animals and keeping them in captivity is not only a basic human right, but it is also a positive strategy for conservation and maintaining the ecosystem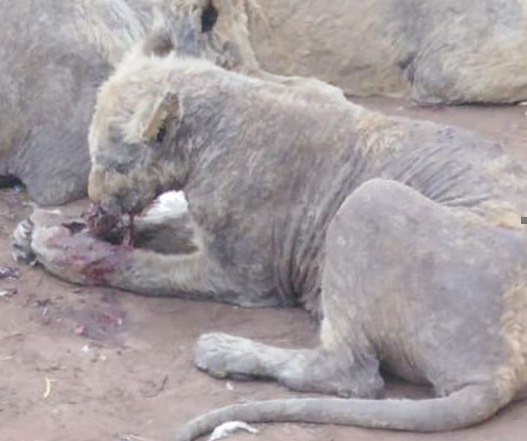 Photo Credit: HUMANE SOCIETY INTERNATIONAL
However, SAPA denies that Steinman is a part of their leadership.
"He's just an ordinary member of the organization," Deon Swart, the CEO of SAPA said in a statement.
In a later press release, the organization said that they "conducted an in-depth investigation" and will "immediately institute disciplinary action against Mr. Steinman."
In addition to the disciplinary action fro Sapa, Steinman was charged with violating South Africa's Animals Protection Act 71 of 1962. If found guilty, he could face a fine of up to $2,700 or one year in jail for each charge.
Ian Michler, narrator of the 2015 documentary "Blood Lions" suggests that there are roughly 10,000 animals currently being held in captive breeding facilities in South Africa, and he says most of them are lions.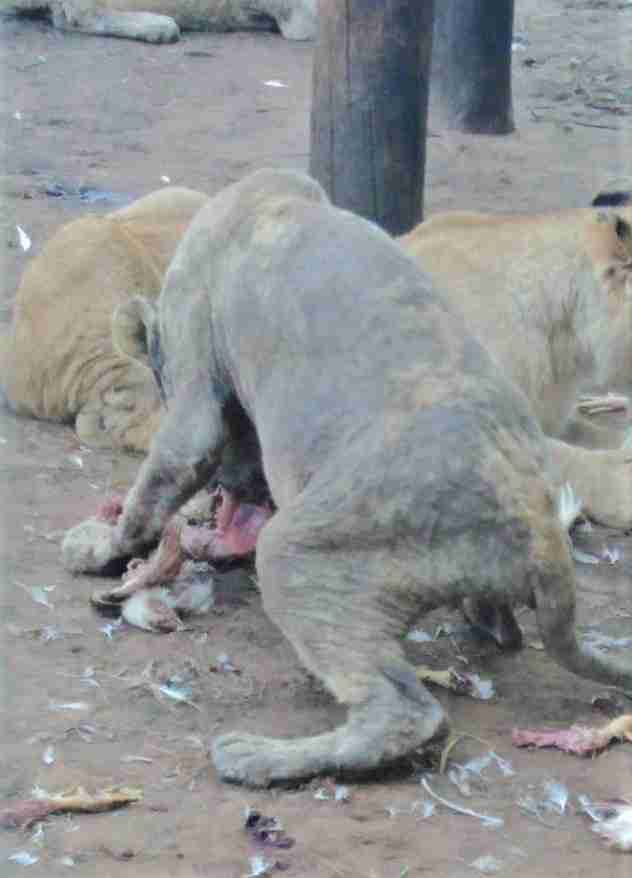 Photo Credit: HUMANE SOCIETY INTERNATIONAL
Michler also worked as a safari operated and journalist for over 25 years, and has seen many of these cases first hand in his work.
Michler believes that the facility at Pienika Farm was used to breed lions so their bones could be harvested into snake oil medicine for Asian markets.
"If you're breeding lions for the lion bone trade, they don't care what those lions look like, because at the end of the day, all they're going to do is end up in a sack, a bag of bones that's going to go to Asia," Michler says.
Sadly, Michler is not optimistic that this incident will spark any change.
"If the lions had a voice, of course they would be roaring for the courts to come down and decide—say that, yes, we actually do need fair and first-world standards for welfare of our species, but I can't see any outcome ending the breeding practices or the lion bone trade," he says.