Strange "Black Hole" Wave Clouds Form Over London During Trump Visit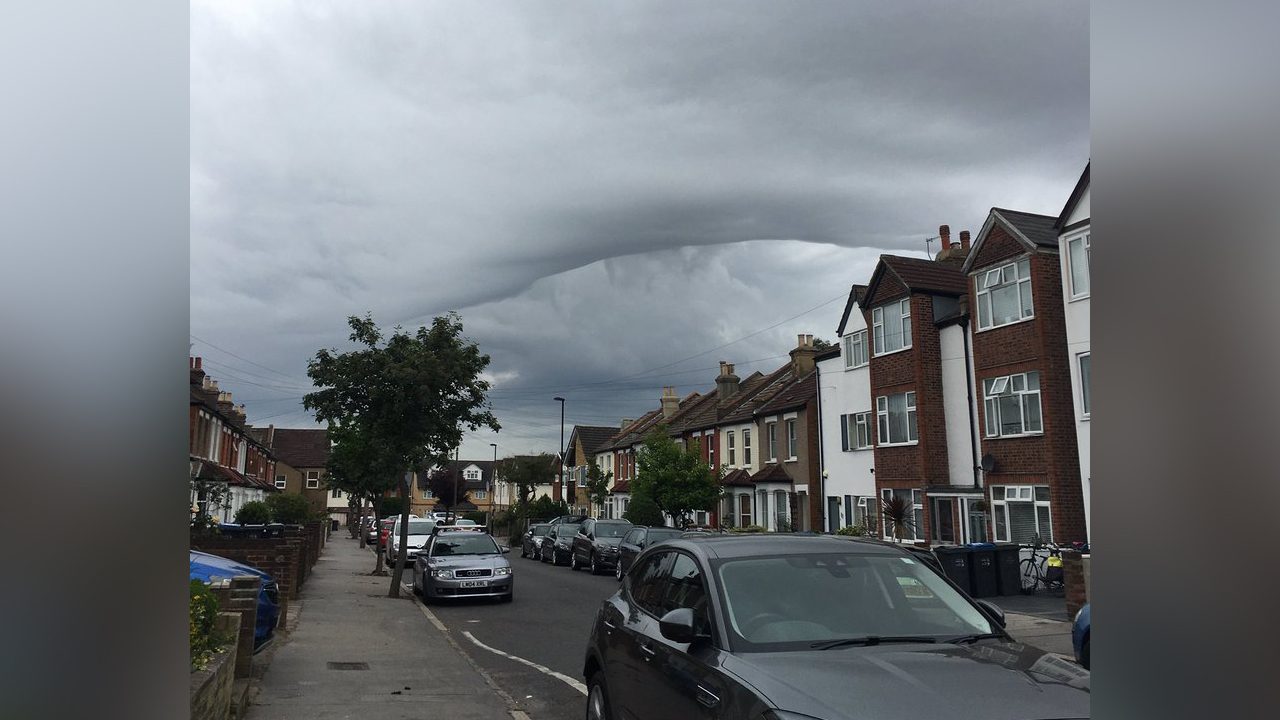 United States President Donald Trump visited the Royal Family in London this week for a scheduled diplomatic appearance. President Trump's family also joined him on his trip, as many of them are members or contributors of his administration.
The London meeting was highly publicized throughout the world, and especially in the UK where protesters clashed in response to the US President's visit.
If you are superstitious, you may have looked into the sky during Trump's visit and felt that perhaps nature was having a reaction to all of the tension that was in the air. The sky looked very ominous over the city of London for the President's arrival.
Tourists and residents alike reported seeing a strange cloud formation hovering over the Houses of Parliament.
Photos of the strange formations began popping up online throughout the day. Various pictures showed different areas throughout the city that were covered by clouds that looked like strange waves.
IFL Science pointed out that while these cloud formations may look ominous, they are an entirely natural phenomenon, just one that researchers don't know very much about yet.
Experts believe that these formations are caused by Asperitas clouds, which is a rare cloud formation that resembles rippling ocean waves in the sky.
According to the MET office, "Asperitas (formerly referred to as Undulatus Asperitas) is a distinctive, but relatively rare cloud formation that takes the appearance of rippling waves. These wave-like structures form on the underside of the cloud to makes it look like a rough sea surface when viewed from below."
Asperitas clouds are still a bit of a mystery to scientists, who are currently unsure of how these clouds are even formed. Most experts agree with the theory that these clouds are formed in the aftermath of thunderstorms, but they have also been spotted in calmer environments, so that may not be a determining factor.
Another theory suggests that they are formed when mammatus clouds descend into areas of the sky where wind direction changes with height causing the wave-like movement. Researchers believe that this would also cause the wave-like effect seen in asperitas clouds.
The below time-lapse video shows how the clouds move through the sky like waves.
Oddly enough, Asperitas clouds were undocumented until 2008, when the cloud society proposed they be listed in the World Meteorological Organisation's International Cloud Atlas.
That proposal was not actually accepted until 2015, when enough data was collected to show that the clouds deserved their own classification.
However, it is important to note that some sources say that the official classification finally came in 2017.
Despite the strange weather, the visit of US President Donald Trump continued as scheduled. His appearance sparked clashes between protesters who were in support or opposition to his policies.
In a later speech, the President called the protests "fake news," and said that there were only a small number of demonstrators on the streets.
Jeremy Corbyn, leader of Britain's opposition Labour Party, addressed protesters who gathered in central London on Tuesday.
Speaking of the president, Corbyn said, "In welcoming visitors from the U.S, I hope there can be a conversation. I am not, absolutely not refusing to meet anybody. I want to be able to have that dialogue to bring about the better and more peaceful world that we all want to live in."
However, Corbyn also expressed his "disappointment" with the harsh words that the president had for the Mayor of London recently.
"I am very disappointed, particularly today on their wonderful festival of Eid, that our mayor has been attacked the way that he has. I am proud that our city has a Muslim mayor, that we can chase down Islamophobia, racism of any kind, within our society. Racism divides. Exploitation of minorities divides," Corbyn said.
While in London, President Trump praised the outgoing Prime Minister Theresa May for her handling of the Brexit situation. Trump held a private meeting, and an extensive public press conference with May.
Boris Johnson, the current favorite to replace May, declined a meeting with Trump, but did hold a brief phone call with the president. Some political commenters believe that Johnson turned down a meeting with Trump as a sort of election time publicity stunt.