A Wave Of Powerful Earthquakes Continue To Strike California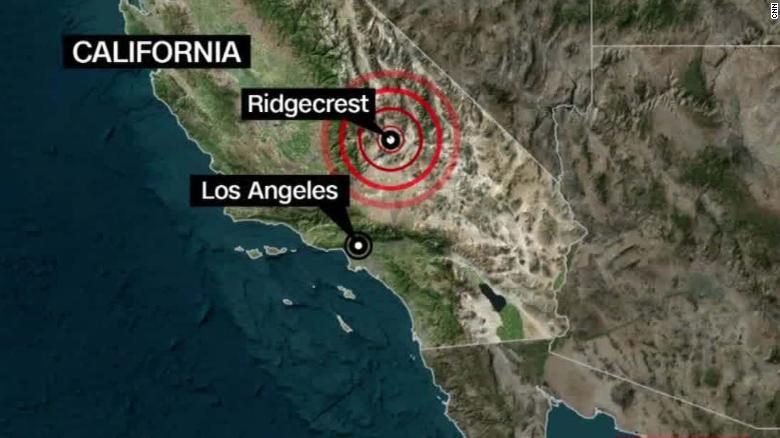 This week, Southern California was shaken by the worst earthquake to hit the area in 20 years and it was measured at a magnitude of 7.1. This was the second earthquake faced by California residents in just two days.
The first earthquake was serious as well, registering as a 6.4 in magnitude. Aftershocks are still shaking the area as residents do their best to stay safe while salvaging their belongings. The second quake is said to have been 11 times stronger than the first.
The quake even registered on a seismograph in Palisades NY, which is roughly 2,500 miles away from the epicenter.
Experts say that there is a very good chance that there could be more earthquakes to come.
According to data analyzed by Caltech Seismologist Doctor Egill Hauksson, there is a 27% chance that a magnitude 6 earthquake will strike the area within the next week. Hauksson's numbers also suggest that there is a 3% chance that a magnitude 7 will occur in the next week.
Hauksson says that this disturbance in the earth's crust could cause another 30,000 quakes in the coming year.
The Red Cross said told CNN on Saturday that 163 people are currently staying in shelters. Luckily, as of Saturday, there were no casualties reported, according to Ridgecrest Police Chief Jed McLaughlin.
"It's hard for the world to know what we've been through because by the grace of God, we've had no causalities, and we've only had minor injuries," McLaughlin said.
McLaughlin also said that the major structures in the city made it through the quake.
"They're still standing, so that's been amazing," McLaughlin said, referencing the buildings in the neighborhood where he was involved with a rescue mission.
A state of emergency is declared in Ridgecrest and San Bernardino County as more aftershocks are expected.
John Bellini, a geophysicist with the USGS, says that there have been over 4,700 earthquakes since Thursday.
"They are coming in every 30 seconds, every minute," he said.
A resident of the area described the experience, saying that, "We were panicked trying to get out of the house because everything is falling out of the cabinets, off the shelves, off the walls. … They were flying like missiles off the shelves."
Earthquake scientists Ross Stein and Volkan Sevilgen have predicted that these recent earthquakes could have caused a major disruption n the fault line. If true, this would mean that earthquakes could become even more common and more powerful in the region.
"Every earthquake makes another earthquake more likely. Yesterday's 6.4 is now a foreshock, and that 7.1 aftershock has become the main shock," seismologist Lucy Jones.
Tens of thousands of people are still left without electricity throughout large portions of southern California.
While there may not have been any reports of casualties, multiple fires and gas leaks were reported.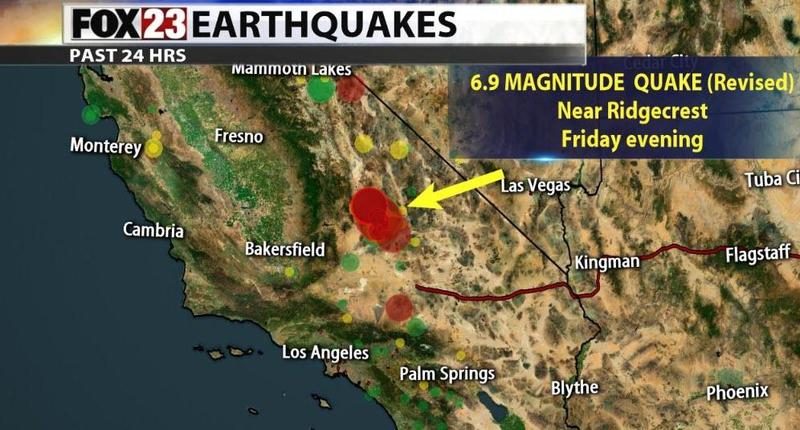 A United States Navy military base that is located near the epicenter of the earthquake reportedly sustained structural damage, and was quickly evacuated.
Posting from the Facebook page for the base, a military representative said, "NAWS China Lake is not mission capable until further notice; however, security protocols remain in effect." 
Mark Ghillarducci, director of the California Office of Emergency Services, says there are "significant reports of structure fires, mostly as a result of gas leaks or gas line breaks throughout the city."
California Gov. Gavin Newsom requested a presidential emergency declaration and requested immediate federal assistance to help the communities in the state that have been impacted by the earthquakes.
"I hereby request an Emergency Declaration for Direct Federal Assistance for California as a result of the July 4 and July 5 earthquakes that struck in Kern County and severely impacted Kern and San Bernardino counties, " Newsom wrote in a letter.
Unfortunately, there have been some small and isolated cases of looting in the midst of the chaos.
Ridgecrest Mayor Peggy Breeden said, "we did last night have some bad people come into this community and try to take things away from some of our business owners."
Pictures in the aftermath of the quakes show massive damage and cracks in the earth and concrete which will likely cost millions of dollars in damages once the costs are tallied.
Southern California residents are living in fear of aftershocks. Some people have even resorted to carrying their mattresses into the streets and sleeping outside because it is safer than staying indoors.